DJ Famous - Back 2 Business 3
Submitted by romeo on Thu, 12/21/2006 - 2:23pm.
General | DJ Famous | Mixtape Torrents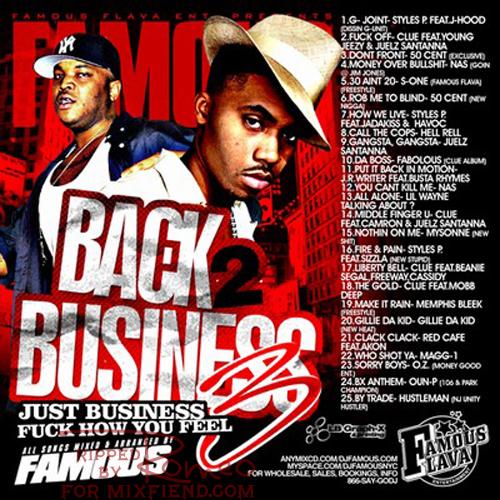 MIXFIEND.COM & MIXTAPETORRENT.COM EXCLUSIVE RELEASE
DJ Famous is taking care of business on this latest Back 2 Business mixtape,
letting you know that this hip-hop game is strictly business, no friends.
This mixtape packs all-new hip-hop music from the 4th quarter rush,
including all-new diss tracks between D-Block & G-Unit and Nas & Jim Jones.
Featuring all-new tracks, remixes & freestyles, this CD has new music
from Jeezy & Juelz, Nas, 50 Cent, Fabolous, Jadakiss & Havoc,
Beanie Sigel & Cassidy w/ Freeway, Lil' Wayne, Red Cafe & Akon, Styles P
& Sizzla, Hell Rell and more.
1. Styles P. Feat. J-Hood - G-Joint (Dissin G-Unit) [3:09]
2. Clue Feat. Young Jeezy & Juelz Santana - Fuck Off [2:36]
3. 50 Cent - Dont Front (Exclusive) [4:43]
4. Nas - Money Over Bullshit (Goin @ Jim Jones) [4:02]
5. S-One - 30 Aint 20 (Famous Flava) (Freestyle) [2:33]
6. 50 Cent - Rob Me To Blind (New Nigga) [3:22]
7. Styles P. Feat.Jadakiss & Havoc - How We Live [3:41]
8. Hell Rell - Call The Cops [4:00]
9. Juelz Santana - Gangsta, Gangsta [1:41]
10. Fabolous - Da Boss (Clue Album) [2:49]
11. J.R. Writer Feat.Busta Rhymes - Put It Back In Motion [2:21]
12. Nas - You Cant Kill Me [3:01]
13. Lil Wayne - All Alone (Talking About ...) [2:13]
14. Clue Feat. Camron & Juelz Santanna - Middle Finger U [3:37]
15. Mysonne - Nothin On Me (New Shit) [3:48]
16. Styles P. Feat.Sizzla - Fire & Pain (New Stupid) [4:09]
17. Clue Feat. Beanie Sigel, Freeway, Cassidy - Liberty Bell [2:43]
18. Clue Feat. Mobb Deep - The Gold [3:46]
19. Memphis Bleek - Make It Rain (Freestyle) [2:53]
20. Gillie Da Kid - Gillie Da Kid (New Heat) [3:57]
21. Red Cafe Feat. Akon - Clack Clack [2:28]
22. Magg-1 - Who Shot Ya [3:03]
23. O.Z. - Sorry Boys (Money Good Ent.) [2:52]
24. Oun-P (106 & Park Champion) - Bx Anthem [2:53]
25. Hustleman (NJ Unity Hustler) - By Trade [2:52]
How To DOWNLOAD