DJ Burn One Presents $hamrock & Jackie Chain - Inter$tate Muzik
Submitted by mfizzel on Mon, 01/12/2009 - 12:52pm.
Dirty South | DJ Burn One | Mixtape Torrents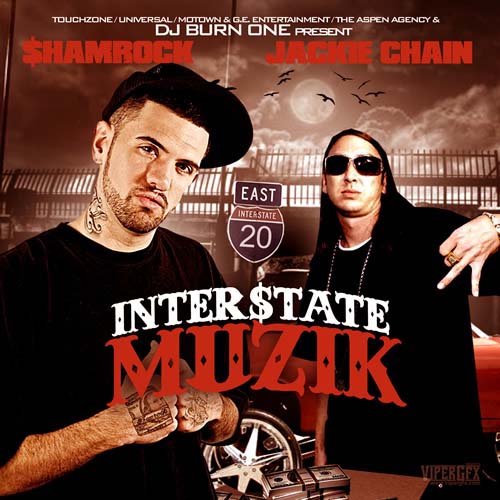 From the streets of Atlanta to the backroads in Alabama, the work never stops
movin'.
A quick trip on the interstate, always in a rental, is all that's needed to
connect two emerging stars of the Southern rap scene: $hamrock, the Decatur
paper-chaser, and Jackie Chain, Huntsville's favorite hustler. Their mutual
affection for getting gwop and ripping apart instrumentals is no more evident
than on Inter$tate Muzik, a collaborative mixtape hosted by heavyweight DJ Burn
One. Boasting top-quality production and street-certified lyrical content, it's
exclusive material that requires repeated play for the long highways.
Standouts:"You Down", "Wheels Fall Off", and "It's A Wrizzap" ft. Bohagon
~ G.E.Entertainment, 2009
www.myspace.com/shamrockmusic
www.myspace.com/jackiechain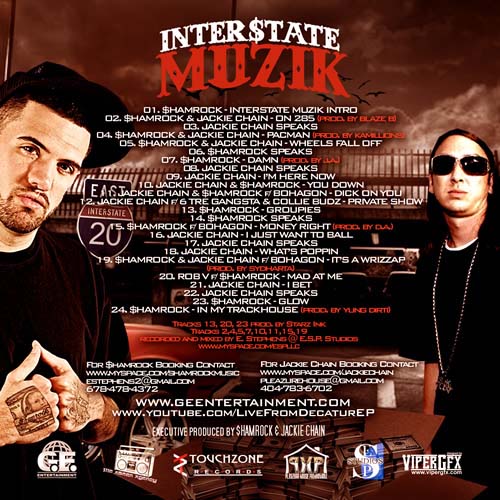 01. $hamrock - Interstate Muzik Intro
02. $hamrock & Jackie Chain - On 285 (Prod. by Blaze B)
03. Jackie Chain Speaks
04. $hamrock & Jackie Chain - Pacman (Prod. by Kamillions)
05. $hamrock & Jackie Chain - Wheels Fall Off
06. $hamrock Speaks
07. $hamrock - Damn (Prod. by J.A.)
08. Jackie Chain Speaks
09. Jackie Chain - I'm Here Now
10. Jackie Chain & $hamrock - You Down
11. Jackie Chain, Bohagon & $hamrock - Dick On You
12. Jackie Chain ft. 6 Tre Gangsta & Collie Budz - Private Show
13. $hamrock - Groupies
14. $hamrock Speaks
15. $hamrock ft. Bohagon - Money Right (Prod. by D.A.)
16. Jackie Chain - I Just Want To Ball
17. Jackie Chain Speaks
18. Jackie Chain - What's Poppin
19. $hamrock ft. Jackie Chain & Bohagon - It's A Wrizzap (Prod. by Sydharta)
20. Rob V ft. $hamrock - Mad At Me
21. Jackie Chain - I Bet
22. Jackie Chain Speaks
23. $hamrock - Glow
24. $hamrock - In My Trackhouse (Prod. by Yung Dirti)
How To DOWNLOAD