DJ Scream - Let The Game Begin (Hosted By Game)
Submitted by mfizzel on Sat, 10/07/2006 - 7:39pm.
West Coast | DJ Scream | Mixtape Torrents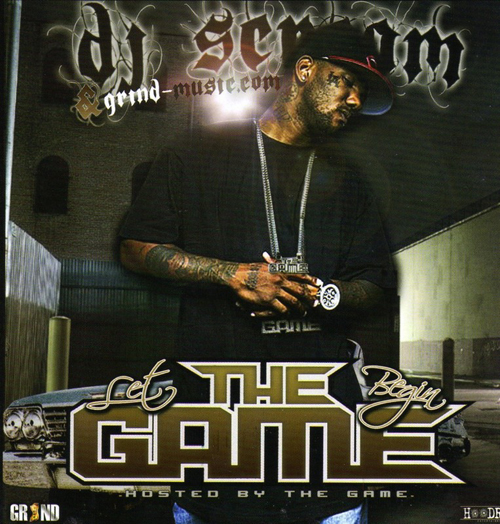 You know it was only a matter of time before The Game got with one of his favorite
DJs to bring you some serious heat!!!
With his highly anticipated sophomore album, The Doctor's Advocate hitting stores
November 14 - believe the hype! Trust us we've heard it: you gone need to cop that!
- The Black Wall Street CEO partners with the Trillest DJ in the South to bring
you exclusive new music, with a dash of classics thrown in. In addition, THE GAME
addresses his recent beef with west-coast rap legend Ras Kass on this "Heavy In
The Streets" Special Edition and shares his true feelings about his former label
mates.

1. The Game Begins 0:29
2. One Blood (It's Okay) Ft Junior Reid 4:27
3. Change Of Heart 1:58
4. It's My Turn 3:39
5. On And On 1:17
6. It's Business 1:24
7. Be Easy Ft Mary J Blige And Juice 2:27
8. Real Nigga Roll Call 0:53
9. Let's Ride (Strip Club) 3:35
10. 1-800-Homicide (Prod. By Hi-Tek) 3:07
11. Will I Die 2:50
12. Light The Weed Ft Hoodfella 2:59
13. Pour It Up (R.I.P. Billboard) 4:49
14. One Blood (RMX) Ft Junior Reid (Prod. By Power) 3:28
15. Where Your Money Ft Nu Jerzey Devil 2:56
16. Speaks On Ras Kass 2:56
17. Speaks On Ras Kass Pt.2 1:34
18. The Funeral (100 More Bars) 5:46
19. We Rollin Ft Juice 3:17
20. Article 187 Ft Dom And Hoodfella 2:22
21. Tell Me When To Go (RMX) (Bonus) 4:22
22. Ridin' Dirty (RMX) Ft Chamillionaire And DJ Quik 4:15
How To DOWNLOAD