DJ Absolut & The Ruff Ryders - Official Ruff Ryder Mixtape: We In Here
Submitted by mfizzel on Thu, 06/29/2006 - 1:17pm.
East Coast | DJ Absolut | Mixtape Torrents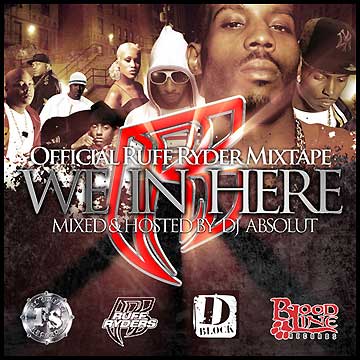 The indestructable Ruff Ryders family is groomed for success. Since the
mid-1990s when the Ruff Ryders first blew hip-hop out of the water with
their hit single "Ruff Ryders Anthem." Since then, they're artists have
sold 20 million records.
But that's obviously not enough, so with albums coming from DMX,The Lox
and Swizz Beatz the forecast is sunny with a chance for platinum showers.
With Swizzy and DMX throwing teasers in mixtape rotation of late, it was
only a matter of time before they released another official mixtape.
In corroboration with Hot 97's All-Star DJ Absolut, the tight-knit Ruff Ryders
family is all in the building and all in the family on this official mixtape
banger. This joint features new tracks & freestyles from DMX, Cassidy, The
Lox (including solo cuts from Styles P, J-Hood & Jadakiss), Swizz Beatz, Drag-On,
Flashy, Kartoon, My-My and more.

1 - Introduction feat. Swizz Beats, Styles P, Cassidy & Drag-On
2 - Drag-On Freestyle
3 - DMX Freestyle
4 - Styles P Freestyle
5 - Flashy Freestyle
6 - Jadakiss & Swizz Beats - Thug It Out
7 - J-Hood feat. Jadakiss - D-Block Exclusive
8 - My-My Freestyle
9 - Cassidy Freestyle
10 - DMX - Nowhere To Hide
11 - Team Arliss & Styles P Freestyle
12 - Drag-On - Try Me [produced by Swizz Beatz]
13 - Flashy Freestyle
14 - Kartoon Freestyle
15 - DMX & Freeway Freestyle
16 - Kartoon - Make Up Your Mind
17 - My-My, Flashy & Drag-On - Money On My Mind
18 - Styles P & Swizz Beatz - Who Want A Problem
19 - DMX - Lord Give Me A Sign
20 - DMX - We In Here
How To DOWNLOAD