DJ NYU - The Motivated Mixtape (Hosted By Stykz)
Submitted by mfizzel on Thu, 12/16/2010 - 4:58pm.
General | Mixtape Torrents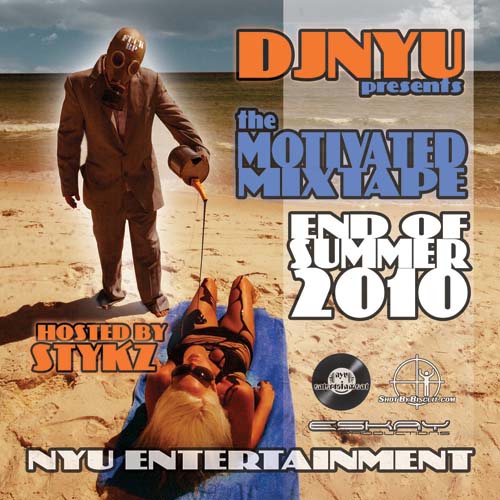 Follow @djnyu on Twitter! | Facebook
01. Stykz "The Motivated Intro"
02. Rihanna "Rockstar 101 (djnyu remix)"
03. Club Headliners "Poison Shots (Dj Addict remix)"
04. Pitbull & T-Pain "Hey Baby (Drop it to the floor)"
05. Fugees "Ready or Not (Rock-it Scientists club mix)"
06. Kesha "We R Who We R (Dj Deville club mix)"
07. Dj Godfather & Pittsburg Slim "I Wish I Was A Dj"
08. Cee Loo & 50 Cent "Fuck You Remix (djnyu edit)"
09. Gyptian "Hold Yuh (OG Deville remix)"
10. PM Dawn "Set Adrift on Memory Bliss"
11. Mann & 50 Cent "Buzzin Remix"
12. Mil Ticket "Grab Her by the hair"
13. Old Dirty Bastard "Shimmy Shimmy Ya (Gigamesh remix)"
14. Snoop Dogg & Lil Jon "1800 (Dj Katch edit)"
15. Lil Jon & 3OH!3 "Hey (Anthem Kingz remix)"
16. Usher & Hyper Crush (Hyper Crush remix)"
17. Nicki Minaj & Will I Am "Check it Out (Digital Dave Buggles edit)"
18. Ciara "Gimmie That"
19. Mike Posner "Please Don't Go (djnyu chopped up remix)"
20. Usher & Dj Class "OMG (Dj Aristocat Vs djnyu re-edit)"
21. Trey Songz & Busta Ryhmes "Bottoms Up Remix"
22. Jamie Fox & T.I. "Yep Thats Me"
23. Kanye West, Jay-Z & Swiss Beats "Power Remix (djnyu edit)"
24. Wiz Khalifa "Black & Yellow"
25. Timberland & James Fauntleroy "Paper Scissors Rock"
26. Usher & Jay-Z "Hot Toddy (VM edit)"
27. Nelly "Tippin in da Club"
28. Kanye West "Runaway (Dj Beatbreaker epic mix)"
29. Mike Posner "Cheated"
30. Soulja Boy "Dance Floor Swag (Danny Diggz remix)"
31. Jermain Dupri "I Heard em Say"
32. Sean Kingston & Nicki Minaj "Letting Go (Jump Somkers remix)"
33. The Cataracs "Top of the World"
34. Clinton Sparks & Dj Class "Favorite Dj (djnyu refix)"
35. Rihanna "Only Girl in the World (Mixin Marc & Tony Svejda club mix)"
36. Far East Movement "She Owns the Night"
37. Laidback Luke & Jonathan Mendelsohn "Til Tonight (OG Chris Kaeser remix)"
38. Flo Rida "Turn Around (Mister Grey peak overhaul mix)"
39. Deekline, Sporty-O & Nikki Cara "The Weekend"
40. Ce Ce Peniston "Finally (Vandalism remix)"
41. Eminem & Lil Wayne "No Love (djnyu edit)"
42. Stykz "The Motivated Outro"
How To DOWNLOAD