B.G. & Chopper City w/ Big Mike, Evil Empire & Wally Sparks - Play It How It Go #4
Submitted by mfizzel on Wed, 04/05/2006 - 5:32pm.
General | Big Mike | Mixtape Torrents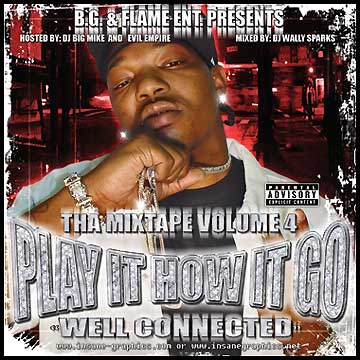 B.G. shows you a little Southern hospitality with hosts Big Mike & Evil
Empire and Wally Sparks on the 1s and 2s. With the Chopper City rap
legend recently dropping his latest album The Heart Of The Streetz, v.2
this mixtape is serves as the official post-album jumpoff. This joint also
features exclusive Three-6, T.I., Yo Gotti, D-Block, Big KRIT & Y. Buck.

1 - Big Mike Intro
2 - Three-6-Mafia feat. Project Pat B.G. & Lil' Flip - Poppin My Collar (remix)
3 - B.G. feat. Hakizzle - Chopper City Got It Goin On
4 - T.I. feat. B.G. - I'm Straight
5 - B.G. & Maal Da Pimp - We In The Streets Man (LIVE From The 423)
6 - B.G. Speaks
7 - T.C. feat. Young Blaze - Holla Back 2
8 - T.C. - Back To The Hood
9 - Yung Joc - A Couple Grand
10 - Skip (UTP) feat. T.C. - I'm On The Block
11 - Jim Jones - Exclusive Freestyle
12 - Jim Jones - Play It How It Go Exlcusive
13 - Yo Gotti feat. Lil' Keke, Lil' Flip, & Slim Thug - Lean On Me
14 - Money Malc - Freestyle
15 - B.G & Hakizzle - Freestyle
16 - Pnc feat. UTP & Juvenile - Bubble Bubble
17 - Lady Dolla (Chopper City) - Ride That
18 - J-Hood - Banks
19 - Styles P & Team Arliss - Shoot Em
20 - Chopper City Boyz - Ya Know
21 - Tone Tone feat. B.G. - Holla Shawty
22 - Young Buck feat. B.G. - I Got Mine
23 - Hakizzle - Rockstar
24 - Quissey - Freestyle
25 - Big K.R.I.T. - I Just Touched Down
26 - D.Cooley feat. Maceo - Trap Clothes
27 - T.C. feat. D-Block & Malc - So Gangsta
28 - Lac (UTP) - I'm Tired
How To DOWNLOAD