BMoney Grenier - The Canadian Invasion
Submitted by RSS on Thu, 04/07/2011 - 8:44am.
General | Mixtape Torrents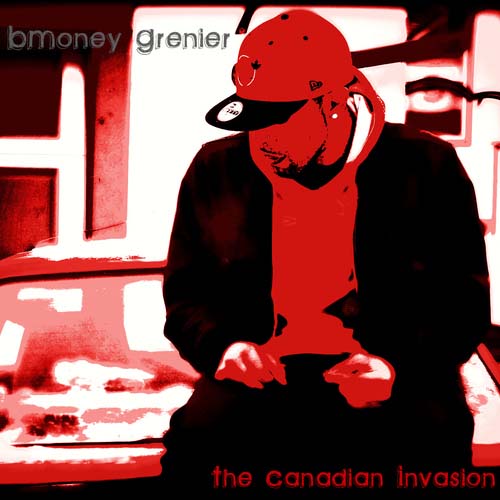 Follow BMoney: MySpace / MySpace 2 | Twitter | Facebook
Hit the break to watch BMoney's new music video Mind Right!
BMoney Grenier - Mind Right from Joshua Grenier on Vimeo.
BMoney Grenier is a local Canadian musician. Not your average "hobby" musician you find on facebook these days. This young man has used the internet driven market to create himself a fan base from Canada to Europe. Also managing to receive well over 200,000 online hits in 2010 via online promo and his "google me" campaign. He can be found easiest online via google, facebook, myspace, youtube, itunes and many more online engines. Born in Toronto, Ontario CA, now working out of Edmonton, AB. and Vancouver,BC.
He is a producer/singer/songwriter/engineer/comedian with an album and mixtape that are unique in sound and character and also cater to our urban culture of the 2011 era. A beat catalog of over 250 instrumentals and over 300 songs recorded and mixed. Born in Toronto, Ontario CA, now working out of Vancouver, BC. and Edmonton, AB.
1. (00:03:38) BMoney Grenier - Mind Right
2. (00:04:29) BMoney Grenier - Raining
3. (00:04:00) BMoney Grenier - BizzNazz
4. (00:04:00) BMoney Grenier - One More Time
5. (00:04:00) BMoney Grenier - Feelin' Myself
6. (00:03:09) BMoney Grenier - Away From Me
7. (00:03:10) BMoney Grenier - I'm Kosh
8. (00:02:38) BMoney Grenier - I Don't Want It
9. (00:03:43) BMoney Grenier Feat. Joey Durt - Sunshine
10. (00:02:47) BMoney Grenier - Real Hip-Hop
11. (00:04:02) BMoney Grenier - Soon As I'm On
12. (00:04:39) BMoney Grenier - It's Going Down
How To DOWNLOAD