Don Bishop Agallah
Submitted by mfizzel on Sat, 03/04/2006 - 12:47pm.
East Coast | Don Bishop Agallah | Mixtape Torrents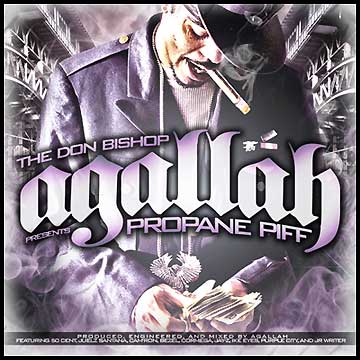 Agallah "The Don Bishop" has been doing his thing in the Dipset circles
for a quick minute now, producing and freestyling alongside Harlem's #1
gangsta group. Releasing his first official mixtape since Doomsday, Don
ain't passin' sh*t on this joint, instead firing up that Piff and hitting you
hard with that Purple City flow + a gang of exclusive new production...

1 - Intro The Piffmaster
2 - Propane Piff [produced by Agallah]
3 - Whoop Ya Head feat. 50 Cent & Agallah
4 - NY Survival [produced by Agallah]
5 - You Not Live Freestyle
6 - Back To The Grind [produced by Agallah]
7 - Bandeleros (remix)
8 - Gun Go, pt. 3 [produced by Agallah]
9 - Hood Is Back, pt. 2
10 - So High
11 - Need Weed? Freestyle
12 - Agallah Anthem feat. Shiest Bub [produced by Agallah]
13 - Gun Love (I Belong To You)
14 - Ready To Rumble feat. J.R. Writer [produced by Agallah]
15 - Thanks To Me feat. Cam'ron & Sin Sizzerb [Agallah remix]