Julian Ramirez & DJ Stone - Club Bangerz V.1

Submitted by CUDJS on Sat, 03/14/2009 - 11:15am.
West Coast | Mixtape Torrents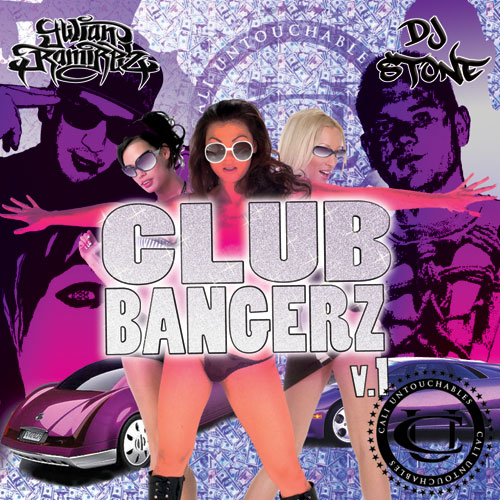 Caliuntouchables doing it again with another world class mix by two of the Wests best...bringing you that future sound. All blends and mixes done on two turntables and a mixer.
1.Intro - Julian Ramirez
Julian Ramirez Mix
2.Im The Shit- Dj Class
3.We Takin Over Remix Bmore Mix- Dj Khaled Ft Akon
4.Fired Frome Work- Diplo Remix
5.Stronger Remix- A Trak Vs Kanye
6.Keep It Hood- White Label
7. What Happend To That Boy Luny Ps Remix - Birdman
8.Bone Thugs Is Gone Remix - Bone Thugs&Harmony
9. We Have The Biggist Party Ever - Ghosts In Clouds
10.Love Lockdown Big Chews Remix - Kanye West
11. Disco Sirens D.I.M Remix - Midfield General
12.Big Money Comin - Crookers Mix
13.Sveglia - Crookers Mix
14. Restless Fake Blood Remix - Uncle
15.Throw It Away - Designer Drugs Remix
16.But I Aint Nas - Destroy Disco Vs Nas
17.Bam Bam - White Label Vs Sister Nancy
18.Poison Alternative Reality Remix- Bbd
19.Get Up Global Djs/Show Me Love Robin.S Mash Up
20.I Got Five On It Culture Prophet Remix -Luniz
21.Allways Anti 24/7 - Dance Area
22. Young"N Alex Rage Remix - Fabolous
23.Digital Overdose - White Label / Julian Outro
DJ Stone Mix
25. Put Your Hands Up For LA - Fedde Le Grande
25. Boom Boom Pow - Black Eye Peas
26. Right On Time - Spencer & Hill
27. Right Round - Flo Rida
28. Galaxy Traveller - Felguk
29. Fuck Electro - Aurel Rivera
30. It's Love (Out Of Office Remix) - South West Beats
31. Flashback - Wolfgang Gartner
32. We Run LA - Ya Boy Ft. Dr. Hollywood
33. The Groove (Dave Ramone Remix) - Christian Hinzer
34. Wild Thing (Punx Squad Remix) - Tone Loc
35. Feel It - Felli Fel Ft. T-Pain & Pitbull
36. Big 9 - Donalde Glaude
37. Number 1 (Jon Kennedy Remix) - Alex Kidd
38. Funk Move Da Booty (Lazy Rich Remix) - Aquilaganga
39. Rock Da Deat (Dj Delicious Mix) - Loulou Players
40. No Superstar - Remady
How To DOWNLOAD