DJ Elev-8 & DJ Lennox - Mixtape Phenoms Vol. 4 (2CD)
Submitted by mfizzel on Sun, 09/24/2006 - 1:28pm.
Blends | DJ Lennox | Mixtape Torrents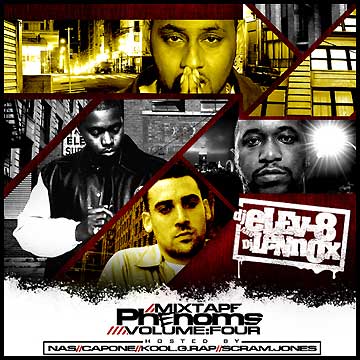 Hosted By Nas, Capone & Kool G. Rap
DJs Lennox & Elev-8 throw down a CD apiece, breakin' down some wild
ass blends for more than 90 minutes, DOUBLE MIXTAPE. These Phenom
joints are off the chain, as are the remixes, including classic blends from
Nas, Jay-Z, Big L, Biggie, 50, Game, Jada, Pun, Cam, Fab, Mobb Deep.

DISC ONE
1 - Phenoms Intro #1 [produced by DJ Elev-8]
2 - Cassidy ft. Jay-Z - Hustla remix (DJ Elev-8 /DJ Lennox remix)
3 - Nas ft. Capone, Dmx, & Styles - Streets Disciple Pt.2 (DJ Elev-8 /DJ Lennox remix)
4 - Saigon - Bin Ladin [produced by Scram Jones]
5 - Big L ft. Prodigy, & Rakim - Dignified Soldiers '05 (DJ Elev-8 remix)
6 - Mobb Deep ft. Jadakiss, Nas & Big L - Hell On Earth '05 (DJ Elev-8 remix)
7 - Ness (Da Band) Freestyle
8 - Kool G Rap, Mobb Deep & Nas - Fastlife '05 (Lil' Raskal remix)
9 - 50 Cent, Cam'ron, Young Buck - Thug Stories (DJ Elev-8 remix)
10 - Scram Jones Speaks
11 - DJ Lennox Intro
12 - Mobb Deep Freestyle
13 - Notorious Big - Take The Money (DJ Lennox mix)
14 - Jadakiss, Big Pun, Nore - You Know What It Is (DJ Lennox mix)
15 - Big L, Biggie - 2 Teks (DJ Lennox mix)
16 - Game, Eazy E, Xzibit - Westside Ridaz (DJ Lennox mix)
17 - Jay-Z, D Block - B.K. To Y.O. (DJ Lennox mix)
18 - Juelz Santana, Fabolous, Mase - Tit 4 Tat (DJ Lennox mix)
19 - Nas ft. Kool G Rap & Buckshot - Talk Of Ny Pt.2 (DJ Elev-8 /DJ Lennox remix)
20 - Snoop ft. Notorious Big - Aint No Fun 05 (DJ Lennox mix)
21 - J Maul Freestyle
22 - Beanie Sigel, Peedie Crack, Twista - Gotta Have It (DJ Lennox mix)
23 - Scram Jones Freestyle
24 - Jo Jo Pellegrino Freestyle
25 - German Luger Freestyle
26 - Pottersfield - Stuck [produced by Heatmakerz]
DISC TWO
27 - Phenoms Intro #2 [produced by DJ Elev-8]
28 - Scram Jones Freestyle
29 - Nas, Notorious Big, Mary J Blidge - Why I Love You (DJ Lennox mix)
30 - Styles - Im Black (DJ Lennox mix)
31 - Game, Aaliyah - Your Girl (DJ Lennox mix)
32 - Shells - NY '05
33 - Chamillionaire Freestyle (Dissin' Mike Jones) (DJ Lennox mix)
34 - Capone - Ya Honor
35 - Kool G Rap, Nas [lost song from before Live At The BBQ]
36 - D Block / Sizzla - Gun Shot (DJ Lennox mix)
37 - Freeway / 50 Cent - Bang Em Down (DJ Lennox mix)
38 - Maino - Do Or Die
39 - Camp Lo - Gotcha
40 - Notorious B.I.G. Mr.Cee Freestyle (full dirty version)
41 - Joel Ortiz Freestyle
42 - Scram Jones Freestyle
43 - Jae Millz & Raekwon - Wanted (DJ Elev-8 remix)
44 - Saigon & Kool G Rap - The Letter "P"
45 - Nature, Nas & Big Pun - Triple Threat Pt.2 (DJ Elev-8 remix)
46 - 2 Pac - Until The End Of Time (DJ Elev-8 remix)
47 - M.O.P. B/W Ike Dirty (DJ Elev-8 classic blend from '98
48 - Raekwon & Tragedy Khadafi - Guerrilla Shit [produced by Scram Jones]
49 - Ness (Da Band) - New Sheriff
50 - Notorious Big & Big L - [produced by DJ Kep]
51 - Tony Yayo - Live By The Gun
52 - Dolla Boyz - P.A.I.D. [produced by Kanye West]
53 - Nas ft. Olu Dara - Bridging The Gap (DJ Elev-8 remix)
BONUS TRACKS
54 - Kanye West ft. Newz - Whole Life
55 - Ja Rule ft. Mary J Blige - Streets Raised Me
How To DOWNLOAD