Shiest Bubz
Submitted by mfizzel on Tue, 08/29/2006 - 2:05pm.
General | Shiest Bubz | Mixtape Torrents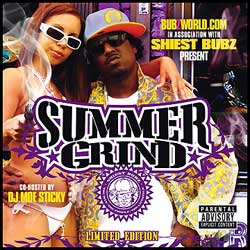 Fresh off the 'Purple Album,' Shiest Bubz returns with the highly-anticipated Summer Grind as
'The Purple Emperor' walks you through Harlem alongside DJ Moe Sticky (Dipset's in-house DJ).
Renowned for his grind, Shiest takes his music as serious as his hustle. Whether it's piff,
music or clothing, Bubz sets the industry standard for being a tastemaker.
This CD features 35 tracks, including brand new music from the Purple City/Byrdgang crew +
exclusive joints from Jim Jones, Hell Rell, Jae Millz, Smoke and Numbers and more. Also
featuring El Dorado Red, Smitty, Question and Slim Thug.

1 - Summer Grind Intro
2 - The First Time - Tess
3 - Looking Hungry - Shiest Bubz
4 - The Essence - Un Kasa
5 - Ya Dig - Byrdgang
6 - Interlude
7 - Get Paid - Agallah
8 - Super Fresh - Question feat. Shiest Bubz
9 - Puff My Piff - Shiest Bubz feat. Byrdgang
10 - Be Patient - Den 10 feat. Shiest Bubz & Smoke Dza