Sinister Shan - Best Blendz Ever Vol. 4
Submitted by mfizzel on Thu, 07/28/2011 - 8:06am.
Blends | DJ Sinister Shan | Mixtape Torrents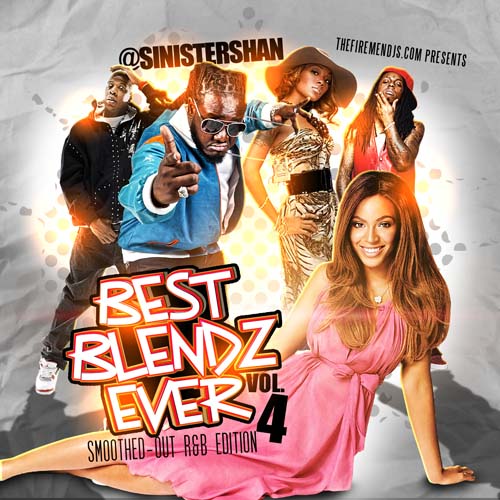 1-Robin Thicke-Lost Without You B/W B.I.G.-Big Poppa Inst.
2-Lil Wayne-Mrs. Officer B/W Ne-Yo-When Your Mad Inst.
3-Black Moon-How Many Emcees B/W 112-U Allready Know Inst.
4-50 Cent-P.I.M.P. --- Contact Info
5-Nivea-Okay B/W Total-I Can't See Inst.
6-Jay-Z-Hello Brooklyn B/W Plies Ft. Ashanti-Want It Need It Inst.
7-Bone Thugs N Harmony Ft. Akon-I Tried B/W Janet Jackson Ft. Nelly-Call On Me Inst.
8-Game-It's Okay (One Blood) B/W Trey Songz-It's Okay (One Blood) Inst.
9-Hurricane Chris-A Bay Bay B/W Lil Wayne & Young Money-Every Girl Inst.
10-Project Pat-Good Googly Moogly B/W Mariah Carey-Touch My Body Inst.
11-Lil Wayne- A Millie B/W Destinys Child-Soldier Inst.
12-Jody Breeze & Lil Wayne-Catch Me If You Can B/W Usher-There's Goes My Baby Inst.
13-50 Cent-P.I.M.P. B/W Aaliyah-Come Back In One Piece Inst.
14-Adina Howard-Freak Like Me B/W Come Back In One Piece Inst.
15-Monica-Don't Take It Personal (Just One Of Those Days) B/W John Legend-Used To Love U Inst.
16-Prodigy-Keep It Thoro B/W Ashanti-Happy Inst.
17-Mase-Tell Me What You Want B/W Lauren Hill-Everything Is Everything Inst.
18-Swizz Beatz-Take A Picture B/W Toni Braxton-Hit The Freeway Inst.
19-Yvette Michelle-I'm Not Feeling You (Remix) B/W B.I.G.-Nasty Boy (Remix)
20-T-Pain-Bartender B/W Nelly-Flap Your Wings Inst.
21-Bow Wow-Big Girls B/W Diddy-Through The Pain Inst.
22-Jade-Don't Walk Away B/W Donell Jones-U Know What's Up Inst.
23-Kool G Rap-On The Run B/W Jaheim-Just In Case Inst.
24-Destiny's Child-Independent Woman B/W Beanie Sigel Ft. Snoop Dogg-Don't Stop Inst.
25-Game Ft. 50 Cent-How We Do B/W Mya Ft. Lil Wayne-Lock U Down Inst.
26-Lloyd & Lil Wayne-You B/W Ll Cool J Ft. 7 Aurelius-Hush Inst.
27-Beyonce-Get Me Bodied B/W Lloyd-All Around The World Inst.
28-Run-Dmc-My Adidas B/W Miguel-All I Want Is You Inst.
29-Bravehearts-Oochie Wally B/W Sheek Ft. Carl Thomas-One Name Inst.
30-Governor-Feel The Flow B/W Mc Lyte-Cha Cha Cha Inst.
31-Toni Braxton-Making Me High B/W Keyshia Cole-Let It Go Inst.
32-Cassidy-I'm A Hustler B/W High & Mighty Ft. Mos Def-B Boy Document Inst.
33-John Legend-Used To Love You B/W Lil Wayne Ft. Robin Thicke-Tie My Hands Inst.
How To DOWNLOAD