Swishahouse & Michael Watts - Posted Up At The All-Star
Submitted by mfizzel on Mon, 02/13/2006 - 8:18am.
Mixtape Torrents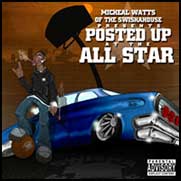 Michael Watts brings his team of Swishahouse All-Stars and posts up
on this heavy mixtape from the Texas indie heavyweights. Featuring the
House's new single off their coming album The Day Hell Broke Loose #3,
"Chunked Up In The Deuce" with Keke, Paul Wall, Bun B & Pimp C. This
CD also features screwed tracks from Swishahouse artists, T.I. & Jeezy.

01.Michael Watts - Intro
02.Lil Keke - What You Know Flow
03.T.I. - What You Know
04.Archie Lee & Coota Bang - Im An Allstar
05.Young Nino (Ft.Paul Wall) - Thats My Hood 2006
06.Paul Wall & Lil Keke - Pushin Flow
07.Scarface - Never Snitch
08.Michael Watts - Interlude
09.Tony Yayo
(Ft.Young Buck & 50 Cent) - I Know U Dont Love Me
10.Hawk - H Town Stomp
11.Coota Bang & Archie Lee - Air Forces Flow
12.Webbie (Ft.Pimp C & Lil Boosie) - Like That Remix
13.Paul Wall Lil Keke & UGK - Chunk Up The Duece
14.Rick Ross - Hustlin
15.Attitude - I Aint Scared
16.Coota Bang & Archie Lee - Kryptonite Flow
17.T.I. (Ft.UGK) - Back Front Side To Side
18.Lil Wayne - Money On My Mind
19.Michael Watts - Tussle Intro
20.Big Tuck (Ft.Tum Tum & Slim Thug) - Tussle 2006
21.Unknown - Damn She Got That
22.Paul Wall - Girl
23.Aqualeo - Get Ya Hands Up
How To DOWNLOAD