The Jacka - GSlaps Radio Vol 1
Submitted by mfizzel on Sun, 12/19/2010 - 4:30pm.
General | Mixtape Torrents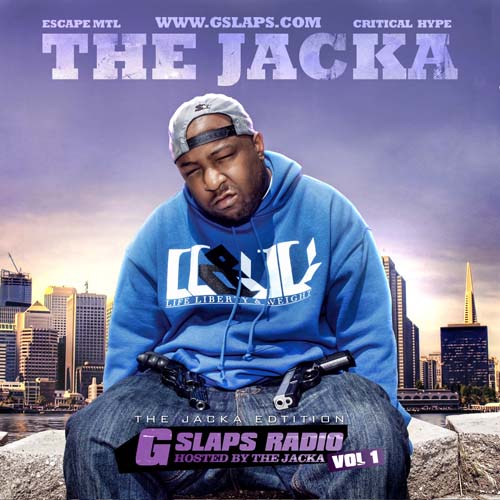 New The Jacka mixtape "GSlaps Radio Vol 1" mixed by DJ Critical Hype and presented by www.GSlaps.com, with features from E-40, Bobby Valentino, Paul Wall, Mistah Fab, Erk Tha Jerk, Cormega & more.
The Jacka & Andre Nickatina "My Middle Name is Crime" available now on iTunes.
01 The Jacka Intro
02 The Jacka Everything (Prod. By Erk Tha Jerk)
03 Ap.9 Payback
04 The Jacka And 12 Gauge Shotie Dope
05 The Jacka And Ampichino Bonafide Hustler Feat. Mistah Fab
06 The Jacka Paper Non Stop Feat. Fed-X
07 The Jacka And Berner Live By It, Die By It Feat. Shoboat
08 Ap.9 I'm That Nigga Feat. The Jacka, Bobby Valentino And Fed-X
09 The Jacka And Ampichino No Tears
10 The Jacka And Ampichino Hustle In The Rain Feat. T-Nutty
11 The Jacka And Berner All I Know
12 The Jacka And Laroo About Me
13 The Jacka Emergency (Gslaps Exclusive) Feat. Jimathez
14 The Jacka We Still Here Feat. Mr. Tower
15 The Jacka Storm Feat. Cormega
16 The Jacka And Ampichino Death 2 My Enemies Feat. Husalah
17 The Jacka And Laroo Err Body Say Feat. Fed-X
18 Husalah Sucka Shit
19 The Jacka And Lee Majors Alpine Feat. Dean Green
20 The Jacka And Lee Majors Patty Cake Feat. Paul Wall
21 The Jacka, Magnolia Chop And Young Los Mama's Advice
22 The Jacka And Berner Temper Feat. Ap.9
23 The Jacka And Laroo A Hustler Feat. Melo
24 The Jacka Callin My Name Feat. Mistah Fab
25 D-Lo No Hoe Remix Feat. The Jacka, E-40 And Beeda Weeda
How To DOWNLOAD