The Notorious B.I.G. Hot 97 Tribute Mix (1998)
Submitted by mfizzel on Tue, 03/09/2010 - 10:25am.
Classic / Old | Mixtape Torrents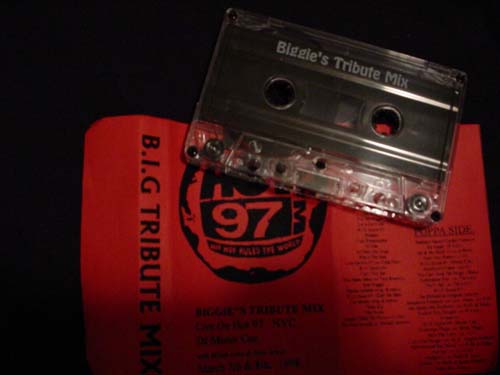 The classic Hot 97 Biggie tribute mix, mixed live by Mister Cee on Hot 97 March 7th & 8th 1998.
Hit the break for vintage footage of Biggie & The Bad Boy family performing at the 1995 Source Awards.
01 B.I.G. Quote #1 0:50
02 Freestyle (Mister Cee) 2:15
03 Real Love 2:17
04 Buddy X 1:22
05 Freestyle (DJ Enuff) 0:16
06 Party & Bullshit 2:54
07 Party & Bullshit Freestyle 0:27
08 Freestyle (Mister Cee) 1:51
09 B.I.G. Quote #2 0:20
10 Dolly My Baby 1:32
11 A Buncha Niggas 0:38
12 Flava In Ya Ear 1:02
13 Jam Session 2:02
14 The What 2:52
15 For My Niggaz 1:22
16 Lets Get It On 0:51
17 B.I.G. Quote #3 0:31
18 Dreams 1:04
19 Cunt Renaissance 0:49
20 B-Side 2:22
21 All Men Are Dogs 0:30
22 Who's The Man 0:55
23 Freestyle (Funkmaster Flex) 1:37
24 B.I.G. Quote #4 0:31
25 Can't You See 1:51
26 How Many Ways 1:13
27 Real Niggaz 4:01
28 Players Anthem (Original & Remix) 2:51
29 B.I.G. Quote #5 0:52
30 Get Money (Original & Remix) 3:00
31 Think Big 1:16
32 The Points 0:46
33 Runnin' From The Police 1:16
34 This Time Around 3:17
35 Side A Outro 0:19
36 Madison Square Garden Freestyle 5:19
37 Be Happy 2:50
38 Me & My Bitch Live 2:11
39 Only You Remix 2:08
40 B.I.G. Quote #6 1:09
41 Brooklyns Finest 3:28
42 You Can't Stop The Reign 2:09
43 Freestyle (Funkmaster Flex) 1:17
44 You'll See 1:35
45 B.I.G. Quote #7 0:28
46 The Benjamins Freestyle 3:53
47 The Benjamins (Original Version) 0:49
48 Mo Money Mo Problems 1:13
49 Fuckin You Tonight 1:24
50 Hypnotize 1:10
51 B.I.G. Quote #8 1:10
52 Notorious Thugs 2:12
53 Sky's The Limit 1:08
54 I Love The Dough 2:22
55 Been Around The World 0:18
56 Another 1:59
57 Young G's 1:29
58 Victory Part 1 2:26
59 Victory Part 2 0:47
60 Nasty Boy Remix 4:23
61 Side B Outro 1:26
How To DOWNLOAD