The Aphilliates & Beanie Sigel - Streetz Is Watching
Submitted by mfizzel on Tue, 09/05/2006 - 5:52pm.
East Coast | The Aphilliates | Mixtape Torrents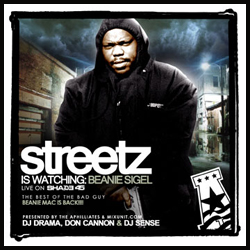 When Beanie Sigel stopped by Shade 45 to
hang out with The Aphilliates, nobody knew the
controversy that would result. With Philly's finest
disputing Bean's story of a recent robbery and
shooting near his childhood home, the world is
anxious to know what really happened.
In the meantime, (B-Mac refuses to spill the
beans until he's off parole), The Mix Unit hooks
up with The Aphilliates crew to present "The
Best of The Bad Guy." DJ Drama, Don Cannon,
and DJ Sense put together classic Beanie tracks
with exclusive freestyles, and also features the
controversial interview from Shade 45.

1 - Beanie Sigel - Return Of The Bad Guy
2 - Cannon Freestyle
3 - Why Wouldn't I
4 - Streets Is Watchin Intro
5 - Adrenaline
6 - 4-5-6
7 - Stop, Chill
8 - Beanie Adresses The Streets
9 - All Eyes On Me
10 - Reservoir Dogs
11 - Man's World
12 - It's On
13 - Problems
14 - Nothing Like It
15 - Beanie Speaks On Classic Albums
16 - Still # 1
17 - Thug About
18 - The Truth
19 - In The Club
20 - Die
21 - On The Run
22 - Outro
How To DOWNLOAD