Big Mike & Evil Empire - Interstate Trafficking 3.0
Submitted by mfizzel on Fri, 09/22/2006 - 6:59pm.
General | Big Mike | Mixtape Torrents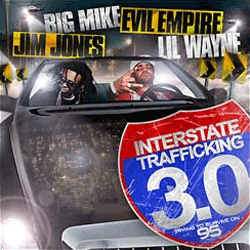 Big Mike and Evil Empire move more weight state to state than a
moving company, so it's only right that The Capo Jim Jones and
The Birdman Junior Lil' Wayne are along for the ride.
Doing it up big for the 3rd edition of the Interstate Trafficking
mixtape, this powerful mixtape alliance is back on the road,
breaking down tracks from NYC to the South. Baallllllllllin'!!!
Featuring new music from Cassidy, Papoose, Ludacris & Jadakiss,
T.I., The Lox, Rick Ross, Talib Kweli & Raekwon, Young Buck &
Scarface, Hell Rell, Lloyd Banks, Bun B, Remo Da Rapstar, 8Ball
and more.

1 - Jim Jones - This Is How We Do It
2 - Jim Jones - Cook It
3 - Cassidy - Cake
4 - Hi Tek feat. Jadakiss, Papoose, Talib Kwali & Raekwon - Where It Started At
5 - Papoose - Line Em Up
6 - Lox feat. Jae Hood - Chest To Chest Freestyle 2006
7 - Styles P feat. Sheek Louch - 914
8 - Team Arliss - Rubberband Stacks
9 - Hell Rell - Hammertime
10 - Jim Jones feat. Baby - We Fly High (remix)
11 - Chantelle feat. Jim Jones - Touch Me On
12 - Lloyd Banks - Help
13 - Beyonce feat. Foxy Brown - Ring The Alarm (remix)
14 - Snype Life feat. Sheek Louch - Hot Girl
15 - Gravy - Last Days
16 - Remo Da Rapstar - Ballin
17 - Willie Maze - Do It Tonight
18 - Krucial - Take The Hood Back
19 - Lil Wayne feat. Rick Ross & Currency - Miami Anthem
20 - Lloyd Banks feat. Young Buck Scarface & 8 Ball - Iceman
21 - Ludacris feat. Jadakiss - More More More
22 - Busta Rhymes feat. Rick Ross - New York Shit (remix)
23 - Ludacris feat. Beanie Sigel Pimp C & C Murder - Do Your Time
24 - Jibbs feat. Lil Wayne & Young Joc - Chain Hang Low (remix)
25 - Ludacris - Stuck Up [not on album]
26 - T.I. - You Got The Power
27 - Ludacris - Woozy
28 - Bun B feat. Jim Jones - Hopeless
29 - Ludacris feat. Scarface - Gangsta
30 - Project Pat - The Projects
How To DOWNLOAD