Big Mike
Submitted by mfizzel on Wed, 04/05/2006 - 5:32pm.
General | Big Mike | Mixtape Torrents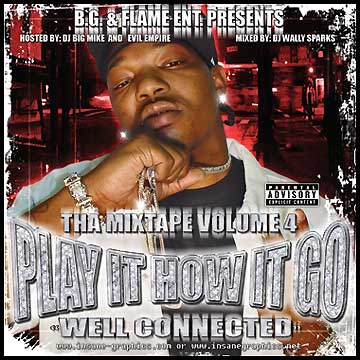 B.G. shows you a little Southern hospitality with hosts Big Mike & Evil
Empire and Wally Sparks on the 1s and 2s. With the Chopper City rap
legend recently dropping his latest album The Heart Of The Streetz, v.2
this mixtape is serves as the official post-album jumpoff. This joint also
features exclusive Three-6, T.I., Yo Gotti, D-Block, Big KRIT & Y. Buck.

1 - Big Mike Intro
2 - Three-6-Mafia feat. Project Pat B.G. & Lil' Flip - Poppin My Collar (remix)
3 - B.G. feat. Hakizzle - Chopper City Got It Goin On
4 - T.I. feat. B.G. - I'm Straight
5 - B.G. & Maal Da Pimp - We In The Streets Man (LIVE From The 423)
6 - B.G. Speaks
7 - T.C. feat. Young Blaze - Holla Back 2
8 - T.C. - Back To The Hood
9 - Yung Joc - A Couple Grand
10 - Skip (UTP) feat. T.C. - I'm On The Block
11 - Jim Jones - Exclusive Freestyle
12 - Jim Jones - Play It How It Go Exlcusive
13 - Yo Gotti feat. Lil' Keke, Lil' Flip, & Slim Thug - Lean On Me
Submitted by mfizzel on Mon, 03/13/2006 - 6:33am.
General | Big Mike | Mixtape Torrents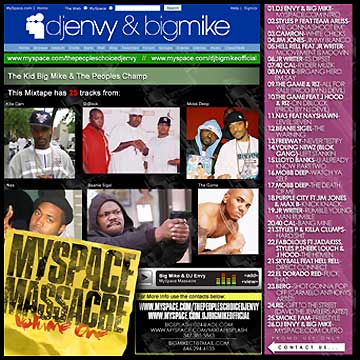 Big Mike and DJ Envy collaborate to show off their online forces on this official mixtape to promote the launch of their MySpace.com profiles. These two exclusive-heavy DJs bang out crazy new hip-hop flavor from coast to coast, including new joints from Cam'ron, Nas, Game, Beanie Sigel, Freeway, Lloyd Banks, Mobb Deep, Fabolous, Jadakiss & Fabolous, Styles P and the entire Dipset (Juelz, Jim, J.R., .40 Cal, Max B, Hell Rell).
1 - DJ Envy & Big Mike - MySpace.com Intro
2 - Styles P feat. Team Arliss - We Gonna Shoot Em
3 - Cam'ron - White Chicks
4 - Jim Jones - Jimmy Blanco
5 - Hell Rell feat. J.R. Writer - Moovement Is Moovin
6 - J.R. Writer - Its Dipset
7 - 40 Cal - Ryder Muzik
8 - Max B - Birgang Herd Em Say
9 - The Game & Riz - All For Sale (produced by NJ Devil)
10 - The Game feat. J-Hood & Riz - On Dblock (produced by NJ Devil)
11 - Nas feat. Nayshawn - Level Seven