CHOPS, Paul Wall & DJ Clue - National Champs (It's Going Down - Special Edition)
Submitted by mfizzel on Wed, 03/01/2006 - 7:12pm.
Mixtape Directory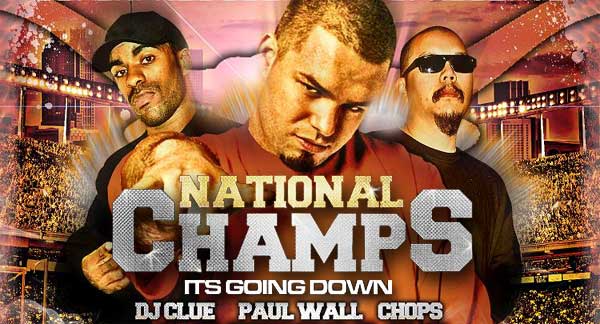 CHOPS (of Mountain Brothers roots) has been showcasing his production on major mixtapes for two years with his It's Going Down mixtape series. Remixing some of the Dirty 3rd's hottest artists with his original, fly beats, this super-producer has been turning heads from coast to coast for quite some time. With the South's biggest artists stepping to CHOPS with exclusive tracks to remix, the It's Going Down mixtapes have really become a major force in the Southern game. Joined by his boy Paul Wall, who's promoting his new online grills shop, these IGD veterans, are joined by the Godfather of Mixtapes DJ Clue? as CHOPS gets a Cluemanti co-sign. This mixtape features 20 exclusive & original CHOPS remixes from Paul Wall aka. The People's Champ. These Swishahouse/It's Going Down remixes feature some of the South's biggest names, including Bun B, Slim Thug, Mike Jones, Nelly, SLAB and GRiT Boys + cameos from Game, Method Man, E-40 & Ice Cube, Jim Jones & more.
1 - Paul Wall Intro [produced by CHOPS]
2 - DJ Clue? Intro [produced by CHOPS]
3 - Grillz - Nelly, Paul Wall, Big Gipp (CHOPS remix)
4 - Got Plex - Paul Wall (CHOPS remix)
5 - Streets - SLAB, Paul Wall, Bun B (CHOPS remix)
6 - National Champs Interlude Part 1 GrillsByPaulWall.com [produced by CHOPS]
7 - Drank In My Cup - Grit Boys, Paul Wall (CHOPS remix)
8 - Sittin Sidewayz - Paul Wall (CHOPS remix)
9 - Its Going Down Special Edition Interlude Part 1 [produced by CHOPS]
10 - All Eyes On Me - Letoya, Paul Wall, Slim Thug (CHOPS remix)
11 - My Lowrider - The Game, Paul Wall, E-40, Ice Cube, Crooked I [produced by CHOPS]
12 - I Got That Drank - Frayser Boy, Paul Wall, Mike Jones (CHOPS remix)
13 - National Champs Interlude Part 2 [produced by CHOPS]
14 - Still Tippin - Mike Jones, Slim Thug, Paul Wall (CHOPS remix)
15 - Still On It - Ashanti, Paul Wall, Method Man (CHOPS remix)
16 - What You Drankin On - Jim Jones, Diddy, Jha Jha, Paul Wall (CHOPS remix)
17 - It's Going Down Special Edition Interlude Part 2 [produced by CHOPS]
18 - Draped Up - Bun B, H-Town All Stars (CHOPS remix)
19 - You Don't Wanna - GT, Paul Wall, Mike Jones (CHOPS remix)
20 - Paul Wall Tells You What It Do! [produced by CHOPS]
21 - Come Up Offa Dat Check - CHOPS (chopped & screwed by Paul Wall) [produced by CHOPS]
22 - Paul Wall Alllllready! [produced by CHOPS]
23 - Play The Role - Bavu Blakes, Money Waters, Paul Wall (CHOPS remix)
24 - Paul Wall Outro GrillsByPaulWall.com [produced by CHOPS]
25 - DJ Clue? Outro [produced by CHOPS]
How To DOWNLOAD