DJ Burn One - Gorilla In Da Trunk #9
Submitted by mfizzel on Sat, 07/15/2006 - 7:06am.
Dirty South | DJ Burn One | Mixtape Torrents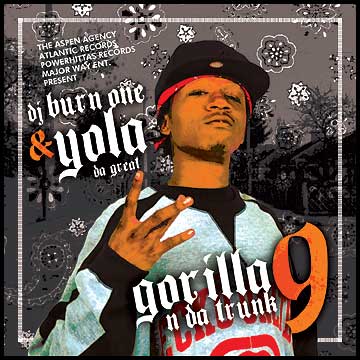 DJ Burn One is known the shake the block with his earthquake-ish Southern
series Gorilla In Da Trunk. Also profiling some of the South's hottest
young talent, this series has been paid a visit by the likes of Yung Joc,
P$C, David Banner & Paul Wall.
Along for the ride this time is the newest acquisition to Grand Hustle
(T.I.'s label), ATL independent gorilla Yola Da Great hosts this mixtape
and pops off a couple exclusives.
This mixtape features tracks from, Young Jeezy, Yung Joc, Lil' Weavah,
Young Dro, Gucci Mane, Homebwo, Boyz N Da Hood, Eightball & MJG, Ludacris,
Bun B, Eva Trill & Marc Decoca, P$C and more.

1 - Yola Intro (produced by Chops)
2 - Yola Da Great - Ain't Nobody (produced by Don Vito)
3 - Yola Da Great feat. Young Capone & Trey Fatal - Addicted (produced by Black Mob)
4 - Eva Trill feat. Yung Joc - Uh Huh (produced by Mr. DJ)
5 - Young Jeezy - I Do This
6 - Ludacris - War With God (Dissin' ?)
7 - Killer Mike - I Will Not Lose (Dissin' Purple Ribbon's C-Bone)
8 - Lil Weavah Speaks
9 - Eva Trill feat. Marc Decoca & Lil' Weavah - Do It (produced by J.B./Major Way Ent)
10 - Yola Da Great Interlude (produced by Chops)
11 - Young Dro - I Need Her (produced by The Cancer of Eva Trill)
12 - Homebwoi feat. Bun B - Sellin Good
13 - Boyz N Da Hood feat. T.I. & Lil Wayne - Gangsta Boyz
14 - Gucci Mane - 745 (Dissin' Young Jeezy & Jay-Z)
15 - Yola Da Great Interlude 2 (produced by Chops)
16 - Yola Da Great - F*ck Y'all
17 - Los Speaks
18 - P. Stones - That's All I Know (produced by Cavie)
19 - Cavie Speaks Live From Cali
20 - Cavie feat. Dogg Pound & MacBoney - CA 2 GA
21 - I'm A Star (Big Reese & Jasper) - The Freshest
22 - Caz Clay - Tell Me That Ain't A Town (produced by Beat Vault)
23 - Kantrell Speaks
24 - Kantrell - Lights Out (produced by DJ Toomp)
25 - Kadalack Boyz - Never Slippin (Collipark Heat!)
26 - Eightball & MJG feat. Project Pat - Relax Take Notes
27 - Alfamega - I'm Blowin Up (produced by Lil C)
28 - Boss Dogg feat. Pastor Troy - Da Wrong One
29 - Yola Da Great Outro (produced by Chops)
How To DOWNLOAD