Dirty Money Records
Submitted by mfizzel on Fri, 09/15/2006 - 6:40am.
General | Dirty Money Records | Mixtape Torrents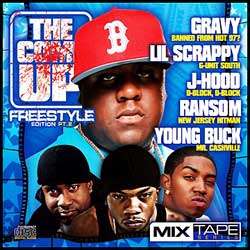 With their latest edition about to hit the streets, The Come Up DVD series
drops a CD full of freestyles from the upcoming DVD + a handful of major
freestyles rotating the mixtape circuit. This is Dirty Money Records' 2nd
freestyle mixtape, and the first one was Gravy.
This mixtape features the 50 vs. Diddy freestyle + a J-Hood freestyle
dissin' Hell Rell, plus all-new Come Up freestyles including beat-jackings
from Jay-Z, Gillie Da Kid, Lloyd Banks, Papoose, Cory Gunz, Gravy, Ransom,
Young Buck, Lil' Scrappy, Fat Joe & Lil' Wayne, Two Five, Flawless and more.

1 - Jay-Z -Freestyl
2 - 50 Cent - Freestyle (Dissin' Diddy)
3 - J-Hood - Freestyle (Dissin' Hell Rell)
4 - Hell Rell - Freestyle
5 - Gravy - Banned From Hot 97
6 - Gravy - Freestyle
7 - Fat Joe & Lil Wayne - Freestyle
8 - Lloyd Banks - Freestyle
9 - Lil Scrappy - Freestyle
10 - J.R. Writer - Freestyle
11 - Gillie Da Kid - Freestyle