Dirty Yella - Trap History (Starring Young Jeezy, Gucci Mane & DJ Drama)
Submitted by mfizzel on Thu, 01/14/2010 - 9:17am.
Blends | DJ Drama | Mixtape Torrents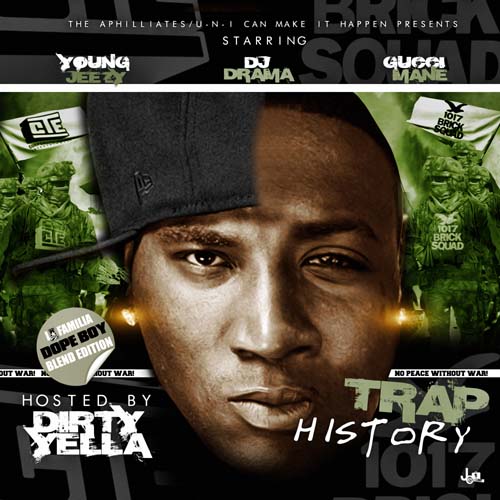 You're probably thinking, "Oh, another Jeezy Gucci Mixtape..." But in this case
the key word is MIX! Almost each and every track on this tape is blended with
unique combinations of hard hitting tracks with "beats on top of beats" to keep
subwoofers begging for mercy!
It's been almost 2 years since Dirty Yella dropped (what some consider a classic)
the first edition of Dope Boy Blends.."TrapHustlaz (Starring Gucci Mane & Yo Gotti)."
Now he's back with Trap History! Yella claims, "When the big homie Drama deaded the
beef with Jeezy and then turned around and got Gucci and Jeezy to end their fued,
It was nothing but motivation to create something exstravagant! I swear, when the
three of them were beefing you had a Jeezy vs Gucci tape dropping every week! I just
think that it's only right to bring that same amount of energy to something positive."
1. DJ Drama Young Jeezy & Gucci Mane Squash The Beef (Intro)
2. Young Jeezy & Lil Wayne - Scared Money (Dirty Yella Remix)
3. Gucci Mane - Crime Wave Freestyle (Dirty Yella Remix)
4. Young Jeezy - Bag Music (Dirty Yella Remix)
5. Gucci Mane & Swag - Whole Lotta Ice One Me (Dirty Yella Remix)
6. Gucci Mane & Pharrell - Have It All (Dirty Yella Remix)
7. DJ Drama & Young Jeezy Speak
8. Young Jeezy & Jay-Z - Big Dog (I Wanna Rock Remix)
9. Young Jeezy & Trey Songz - Say Ahh Freestyle
10. Young Jeezy - For My Town Freestyle
11. Gucci Mane,Rocko,Shawty Lo,Yo Gotti,Waka Flocka Flame,& Nicki Minaj - Mi
Casa Tu Cassa (Dirty Yella Remix)
12. Young Jeezy - Talkin The Blow (Dirty Yella Remix)
13. Gucci Mane & Drake - We Don't Believe You (Dirty Yella Remix)
14. Gucci Mane - Hasta La Vista (Dirty Yella Remix)
15. Gucci Mane & Sean Garrett - Smooches (Dirty Yella Remix)
16. Gucci Mane, Big Bank Black, Alley Boy, B.G., Maino & Kandi - Try It Out
(Dirty Yella Remix)
17. Young Jeezy & Gucci Mane - Trap Or Die Pt 2 (Dirty Yella Remix)
18. Young Jeezy,Triple C's & Chise - Errday (Dirty Yella Remix)
19. Gucci Mane - Break Ya Self (Dirty Yella Remix)
20. Gucci Mane & 9th Ward - Accent (Dirty Yella Remix)
21. Gucci Mane & Jaye - Space Flight (Dirty Yella Remix)
22. Gucci Mane, Lil Wayne & Freddie Gz - Stupid Wild (Dirty Yella Remix)
23. Young Jeezy - I Got This (Dirty Yella Remix)
24. Gucci Mane - They Be Choosin (Produced By Hot Rod/UNI*) (Dirty Yella Remi)
25. Gucci Mane & Rico - Heavy (Dirty Yella Remix)
26. Young Jeezy - Stuntin
27. DJ Drama & Young Jeezy Speak
28. Lonnie Mac Freestyle (Aphilliates) (Produced By Dirty Yella/UNI*)
29. Gucci Mane & Young Dizzy - All Of That (Remix)
30. Just Rich Gates, GE The Piolet, Wacka Flocka Flame, & Gucci Mane - They Be
Choosin
How To DOWNLOAD