DJ Drama, DJ Holiday & Dirty Yella Present Lonnie Mac - In High Demand
Submitted by mfizzel on Sun, 11/15/2009 - 9:19pm.
Dirty South | DJ Drama | Mixtape Torrents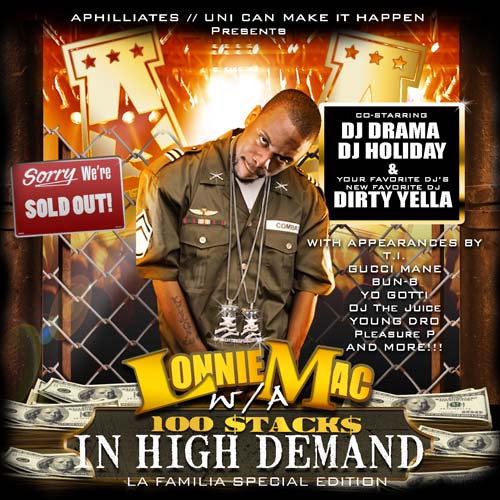 You've heard him on DJ Drama's Gangta Grillz The Album Part 2, on songs like
Ridiculous with Gucci Mane, Yo Gotti, & OJ The Juice.. and "A-Town" with T.I.,
Young Dro, & Sean P. Now hear East Atlanta's own Lonnie Mac W/A 100 $tack$ on
his first official mixtape since being signed with The Aphilliates! DJ Drama
teamed up with DJ Holiday and Dirty Yella (Lonnie's number one producer/DJ) to
bring you the street banger IN HIGH DEMAND!
01 Intro F Dj Drama Dj Holiday & Dirty Yella
02 East Atlanta Slums (Produced By Dirty Yella_Uni)
03 I'm There (Produced By Drumma)
04 Yo Gotti Speaks
05 Ridiculous F Gucci Mane Yo Gotti & Oj The Juice
06 Ki's And Weed (Produced By Dirty Yella_Uni)
07 Eastside Muzik
08 High Demand (Produced By Dirty Yella_Uni)
09 Rap Shit (Produced By Drumma)
10 I Do This (Produced By Mr. Cee_Uni)
11 Max B Speaks
12 Off The Top Freestyle
13 Dj Head Debiase Speaks
14 I'm Gone (Produced By Mr. Cee_Uni)
15 100's On Top
16 U Aint Bout That (Produced By Mr. Cee_Uni)
17 Dj Scream Speaks
18 Keep That Thang On Ya F Match Em Up Shawty (Produced By Dirty Yella_Uni)
19 Jackers Scheamin
20 Top Chopped Off (Produced By Rasckal_Uni)
21 Gangsta Boo Speaks
22 Test Drive F Pleasure P (Produced By Pilfinger_Uni)
23 Throw It On The Floor
24 No Hook Freestyle
25 Ghetto Note F La The Darkman
26 A-Town F T.I. Young Dro & Sean P
27 Dj Holiday & Bun-B Speak
28 Trill Ass Nigga F Bun-B & G.B. The Fly Boi
29 Smoke F Gucci Mane & Willie The Kid (Produced By V-12 Tthe Hitman)
30 Yeah Hoe (Produced By V-12 The Hitman)
31 Dope Boy Stash F Maceo (Produced By Mr. Cee_Uni)
32 Respect F Doeshun (Produced By Mr. Cee_Uni)
33 Things'll Never Change (Produced By Grand Larciny_Uni)
How To DOWNLOAD