DJ 5150 Presents Lil Mook & Darryl J - SEC
Submitted by mfizzel on Sun, 09/27/2009 - 9:05pm.
Dirty South | Mixtape Torrents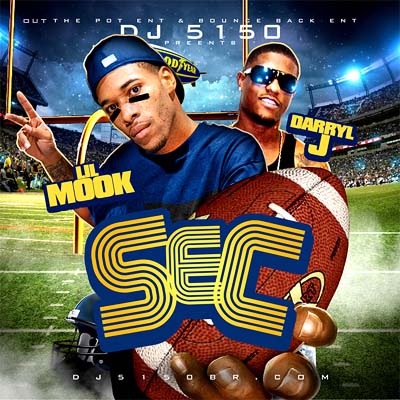 YOU KNOW WHERE YOU GOT IT FIRST
DJ 5150 brings you two of the hottest artists out of the South Eastern region,
Darryl J from Kentucky and Lil Mook from Alabama, and it was only right for 5150
to team up with them to form the SEC, South Eastern Connection. Let's go!
Related downloads: DJ 5150 & Lil Mook - Xzotic Party | DJ 5150 & Darryl J - Kentucky Kush
L. Darryl J - S.E.C Intro
2. Darryl J & Lil Mook - Taxin (Prod. By Cryptonite)
3. Darryl J & Lil Mook Feat Ql'z - Got Purp
4. Darryl J - Speaks
5. Darryl J & Lil Mook - Sumthing Else(Prod. By Cryptonite)
6. Lil Mook - Ezotic Hydro Interlube
7. Darryl J & Lil Mook - Xzotic Hydro (Prod. By The Future)
8. Darryl J & Lil Mook - She Bad (Prod. By Misguided Production)
9. Darryl J Feat Lil Mook & Yung Twizzle - Street Money Remix
10. Darryl J Feat Star Six-Nine - Getit Poppin
11. Lil Mook - Deuces(Prod By Yeen Hurrd Beat)
12. Darryl J Feat D Burns - Damn Homie (Prod. By Slash Major)
13. Lil Mook - Swaggin In Tha Trap
14. Out The Pot Ent - First Name Last Name Freestyle
15. Lil Mook - Xzotic Party
16. Darryl J - My Donk
17. Lil Mook - What About You(Jmills&Ty Cutta)
18. Darryl J - Kush Muzik
19. Lil Mook - Top Down
20. Darryl J - Trap House
21. Darryl J & Lil Mook - Interstate Trap(Prod By Cryptonite)
22. Lil Mook Feat Darryl J & Knuck
23. Darryl J & Lil Mook - Dope Boy Money
24. Darryl J & Lil Mook - Throw It Back
How To DOWNLOAD