DJ Break - Tape 9
Submitted by mfizzel on Sun, 09/24/2006 - 1:23pm.
Classic / Old | DJ Break | Mixtape Torrents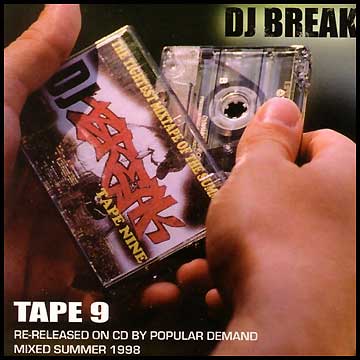 The legendary DJ Break only does one mixtape per year, so you know
they're ridiculous productions. With more remixes, blends and crazy-azz
production than you can shake a stick at, this obvious Instant Vintage
mixtape classic features defly creative joints w/ Cam, 2pac, Nas, LL,
Janet, Aaliyah, Pun & Joe, Mr. Meth, Biz Markie, Jay-Z, Mase & Mary J.

1 - Let Me Introduce...DJ Break - Intro
2 - NORE, Cam'ron, ODB, Meth, Xzibit - What You See Is What You Get (Break remix)
3 - Mya & Silkk The Shocker - Somebody Like Me (X to the Z mix)
4 - Mase & Mary J - I Know You Want Me (cutz remix)
5 - Jay-Z & JD - Money Ain't A Thing (All I Need remix)
6 - N.O.R.E. - Superthug Keeps On... (Break remix)
7 - Weed Is Life & Big Pun The remix (Break remix)
8 - 2pac & Smif N Wessun - I Get Around (Break remix)
9 - Nas, Big Punisher, Fat Joe, Method Man, Raekwon - NYC Dream Team Line-Up (Break remix)
10 - LL Cool J vs. Marley Marl, Biz Markie, Audio Two, Vapors, MC Lyte (Break remix)
11 - Main Source - Lookin' At The Front Door (Break remix)
12 - Fat Joe, Big Pun - What Makes Us Do (Break remix)
13 - Sadat X, Nicole Wray, K-Ci & Jo & Missy - I Don't Want To (Break remix)
14 - Nicole Wray & Timbaland - I Got What Ya Want (Break remix)
15 - 2pac, Special Ed - I Got It Made (Break remix)
16 - Aaliyah - Are You That Somebody (Timbaland remix)
17 - Fat Joe & NORE - BX Connection (Break remix)
18 - Janet Jackson - We Go Deep (Break remix)
19 - Tatiyana Ali - What Am I To Do (Break remix)
20 - Diamond DOC - Mr. Funky Man
21 - Cam'ron & Mase - Horse & Carriage (old schoo mix)
22 - Keith Murray/EPMD - Make 'Em Clap To Dis/No Guest List!!! (Break remix)
23 - Method Man, Biggie, SWV - I Wanna Be Down (Break remix)
24 - Brandy & Mase - Top Of The World (Dogchild remix)
25 - Supercat, BDP, Old School Mega-Mix!! (Break remix)
26 - D.R.E, Raekwon - Next Track (Break remix)
How To DOWNLOAD