DJ Diggz, DJ Lust & La Profecy - Everything On Deck 2
Submitted by mfizzel on Tue, 02/08/2011 - 11:43am.
General | La Profecy | Mixtape Torrents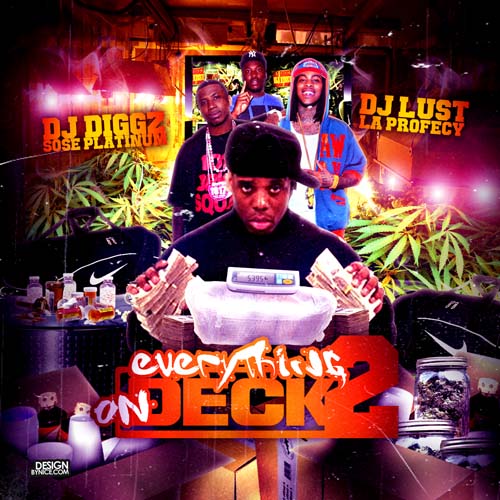 Cash? Check. Pills and Drank? Check. Jars and trees of herb? Check. Scales and Cash? Check. Diggz, Lust & LA got EVERYTHING ON DECK (part deux) and they got plenty of those audio narcotics, too. Featuring new and exclusive Stack Bundles and Max B...for starters, and then a nice blend of Up North heat and Down South dirty to top it off, this CD is 30+ tracks and freestyles deep.
01. A-Mafia & Waka Flocka Flame - 2050 (prod. by Lex Luger)
02. Ace Hood, Young Jeezy, Yo Gotti, Lil Wayne & Rick Ross - Hustler Hard (prod. by Lex Luger)
03. Juicy J - Bombay (prod. by Lex Luger)
04. Jadakiss - I Walk It
05. Jadakiss - Bank
06. Lloyd Banks & Jim Jones - Fly Like The Wind
07. Jim Jones - Goin In 4 The Kill
08. Meek Mill - I Want It All
09. Fli Fetti - Heavy In The Trap
10. Stack Bundles & Chinx Drugz - Freestyle
11. Max B - Freestyle (Sose Platinum)
12. Young Jeezy - Meet Me In Tunnel
13. Rick Ross - The Transporter
14. Lil Wanye And Rick Ross - Welcome To The Hood
15. Duke Da God, A-Mafia, J.R. Writer, Hell Rell & Herb McGruff - Hardcore Yeah 16. Bunky Sa - Coconut Ciroc
17. Cam'ron & Vado - Sour Diesel Life
18. 50 Cent - Happy New Year
19. Mobb Deep feat. Nyce & La Darkman - Green Lantern
20. Camron & Vado - Don't Quit
21. Deli Boyz - High In The Club
22. OJ Da Juiceman - Where U Been Juice (prod. by Lex Luger)
23. Brick Squad - Everything On Deck (prod. by Lex Luger)
24. A-Mafia & Just Rich Gates - Thuggin (prod. by Lex Luger)
25. Meek Mill - 360
26. Platinum P (Shower Squad) - Check My Resume
27. Red Cafe & Rick Ross - Faded
28. Big K.R.I.T. - Michael Jordan
29. Cyr feat. Killa - I Go Hard
30. Jay-Z & Kanye West - H.A.M. (prod. by Lex Luger)
31. Project Pat Outro (prod. by Lex Luger)
How To DOWNLOAD