DJ Drama & Lil Wayne: Dedication (Chopped & Screwed By Paul Wall)
Submitted by mfizzel on Sun, 07/16/2006 - 1:54pm.
Chopped & Screwed | DJ Drama | Mixtape Torrents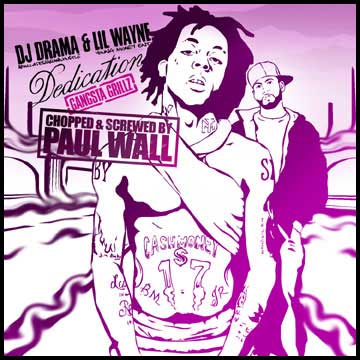 DJ Drama has The People's Champ Paul Wall chop & screw this Dirty
South classic, Dedication, a Lil' Wayne-hosted musical tribute to the
career of the youngest and most talented cat in the South, known to
most as Lil' Weezie. Paul cuts, slows and sews up this major mixtape...

1 - Dedication (chopped & screwed)
2 - Motivation (chopped & screwed)
3 - Over Here (chopped & screwed)
4 - U Gon Love Me (chopped & screwed)
5 - Down & Out (chopped & screwed)
6 - Like Dat (chopped & screwed)
7 - Nah This Ain't The Remix (chopped & screwed)
8 - Bass Beat (chopped & screwed)
9 - Young Money Property (chopped & screwed)
10 - Much More (chopped & screwed)
11 - I'm A Ridah (chopped & screwed)
12 - D-Boyz (chopped & screwed)
13 - So Smooth w/ Young Money (chopped & screwed)
14 - Momma Taught Me (chopped & screwed)
15 - Weezie F Baby (chopped & screwed)
16 - Stilletos (chopped & screwed)
17 - 1 King (chopped & screwed)
18 - Please Say The Baby (chopped & screwed)
19 - Alchemist Shit (chopped & screwed)
20 - Weezie Explains 'Miss My Dogs' (chopped & screwed)
21 - Miss My Dogs (LIVE) w/ B.G. (chopped & screwed)
22 - Outro (chopped & screwed)
How To DOWNLOAD