DJ Drama & Project Pat - Gangsta Grillz 15
Submitted by mfizzel on Tue, 11/29/2005 - 3:47pm.
Mixtape Directory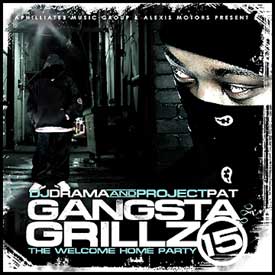 DJ Drama wastes no time getting Project Pat
of Three-6-Mafia back into the swing of things and re-Aphilliated
with the outside world after serving 3 years uptown. Back in effect, and badder
than ever, Pat shows you a little something of the 200+ songs he wrote while locked
away while he lends a hand to Mix Show Power Summit's DJ of the Year and his latest
Gangsta Grillz Dirty South classic. This lethal duo premieres mad new exclusives
along with a gang of freestyles, including all-new heat by Outkast, Biggie w/
T.I. & Slim Thug, Lil' Jon & Bohagon, Jeezy & Juelz, Lil' Wayne, Killer
Mike, Smitty, Webbie, Juvenile, D4L, Replacementz, Attitude,
Boyz N Da Hood, Too Short, The Roots, Maceo Fats
AND MUCH MORE.
1 - Project Pat is Back!!!
2 - Project Pat - Don't Turn Around
3 - Project Pat w/ Young Jeezy & Juelz Santana - Best of Both Hoodz
4 - Bohagen, Lil' Jon, D4L, Crime Mobb - W'zup
5 - Notorious B.I.G., TIP, Slim Thug - Breaking Old Habits
6 - Project Pat Back In The Lab??
7 - Project Pat & BlackJak - Ridin' Swervin
8 - Purple Ribbon & Killer Mike - Body Rock
9 - Smitty - Bout It Bout It
10 - Project Pat Hood Reps
11 - Outkast - Roaches & Rats
12 - Fats - I'm A D-Boy
13 - Replacementz - That's Me
14 - Juicy J Checks In
15 - Project Pat - Don't Bite The D
16 - D4L - I'm The Man
17 - Attitude - 1st Things 1st
18 - Juvenile - Get Ya Hustle On
19 - Project Pat Speaks
20 - The New Boyz N The Hood - Nutt Check
21 - Young Jeezy, Juelz Santana & Lil' Wayne - Lemme Show You How
22 - DJ Paul Checks In
23 - Young Dro & TIP
24 - Young Capone - Lights Camera Action
25 - Notorious B.I.G., Webbie & Too Short - In This World
26 - Project Pat & The Roots - Show
27 - Project Pat Outro
28 - T-Pain - I'm In Love With A Stripper
How To DOWNLOAD