DJ Dub & TheOvun.com Present - J-A-D-A KISS
Submitted by jlaudiosw7 on Tue, 03/24/2009 - 7:56am.
Remixes | Mixtape Torrents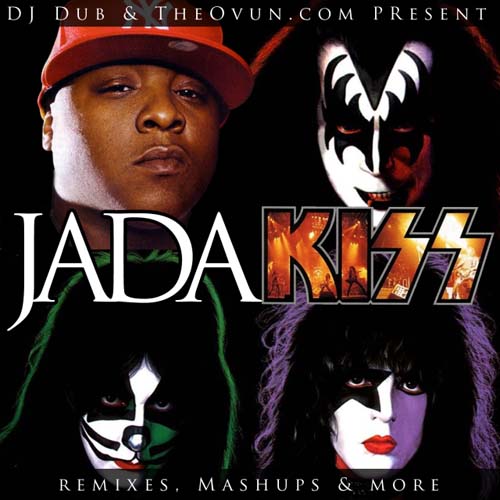 What happens when you bring the sounds of Hip-Hop's Top 5 MCs together with one of Rock's Top 5 Bands and mix it all up with one of the mixtape game's most creative djs? DJ Dub & TheOvun.com present "J-A-D-A KISS" and the end result is geared to be one of the year's best mixtape offerings.
DJ Dub has fused the lyrical juggenaut Jadakiss with the sound of Rock's ultimate power bands, Kiss. Enlisting the help of producers DJ Rob Dinero, Marc Nfinite, Overok, Shag Diggler, Cynrok, and Super Hero, Dub brings out the energy of his idea. Dub said, "I've been thinking about doing this for a minute but I knew I was going to need other angles on (Kiss) music so I reached out and got back nothing but gold."
While some might expect Jadakiss's raspy tone to be fighting against the loud fracas of guitar solos and wailing vocals, thats far from the case on this project. This Remixtape is made to highlight the lyrical prowess of Jada and legendary musicality of Kiss. Dub is no stranger to concepts such as this with past projects including CRS (Kanye, Pharell & Lupe), Heavy Metal (Ghostface & MF Doom) so of course, Dub executed this with no problem.
1. DJ Dub - intro
2. Jadakiss - Times Up (Kiss Remix) prod by DJ Rob Dinero
3. Jadakiss / Nas - Strong In The Hood (Kiss Remix) prod by Marc Nfinit
4. Kiss - Beth
5. Jadakiss / Snoop - Lose Your Life (Kiss Remix) prod by DJ Dub
6. Jadakiss / Papoose - Where It Started (Kiss Remix) prod by DJ Nice
7. Jadakiss / Big Pun / Cam'Ron / Styles P / Nore - Banned From TV (Kiss Remix) prod by Super Hero
8. Jadakiss / Jay-Z - So Right (Kiss Remix) prod by DJ Dub
9. Jadakiss - Hit The Hood Interlude
10. The Lox - She Ride Or Die (Kiss Remix) prod by DJ Rob Dinero
11. Jadakiss - New York (Kiss Remix) prod by DJ Dub
12. Jadakiss / Nas - Made You Look (Kiss Remix) prod by Marc Nfinit
13. Jadakiss / Sheek Louch - Pain (Kiss Remix) prod by Super Hero
14. Jadakiss / Mary J. Blige - Family Affair (Kiss Remix) prod by Shag Diggler
15. Jadakiss - Put Your Hands Up (Kiss Remix) prod by Overok
16. Jadakiss - Dear BIG Interlude
17. Jadakiss / Bilal / Dr. Dre - Fast Lane (Kiss Remix) prod by Cynrok
18. Jadakiss / Nate Dogg - The Setup (Kiss Remix) prod by DJ Dub
19. Jadakiss - Gangster Salute (Kiss Remix) prod by Cynrok
20. DJ Dub - Every night Interlude
21. Jadakiss / Notorious B.I.G. - Come On (Kiss Remix) prod by DJ Dub
22. BONUS TRACKS
How To DOWNLOAD