DJ EFX - Swagger Like Us
Submitted by jada1212 on Wed, 01/07/2009 - 4:47pm.
General | Mixtape Torrents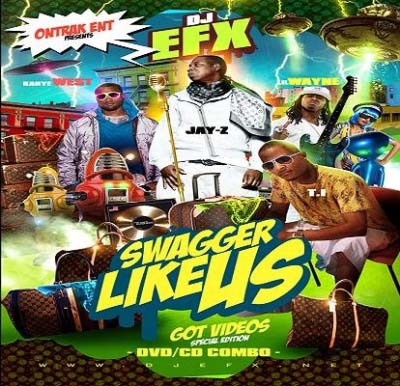 Lil Wayne
1. Up In The Club Feat Swizz Beatz (EFX Exclusive)
2. Number 1 Feat Jamie Foxx (Prod. By Just Blaze)
3. Red Magic Feat The Game
4. Get More Money Feat Cassidy (EFX Exclusive)
5. Forever Remix (Prod. By Pollow Da Don)
T.I.
6. Freestyle Feat Young Dro (EFX Exclusive)
7. Bitch Who?
8. Call Me Collect
9. Live Your Life Feat Rick Ross, Rihanna (Remix)
10. Ball When I Feat Snoop Dogg
Kanye West
11. Amazing Feat Young Jeezy
12. Credit Card (EFX Exclusive)
13. Ghetto Feat Smitty, Scarface, John Legend (Prod. By Kanye West)
14. Digital Girl Feat Dream, Jamie Foxx
15. My Nightmares Feat Lil Wayne
Jay - Z
16. Brooklyn Go Hard (EFX Exclusive)
17. History
18. He Asked For It Feat Uncle Murder (Fat Joe Diss)
19. American Boy (Live) ( EFX Exclusive)
20. Swagger Like Us Feat T.I., Kanye West, Lil Wayne
How To DOWNLOAD