DJ Envy & D-Block - The Bad Guys 4
Submitted by mfizzel on Tue, 11/22/2005 - 7:37pm.
Mixtape Directory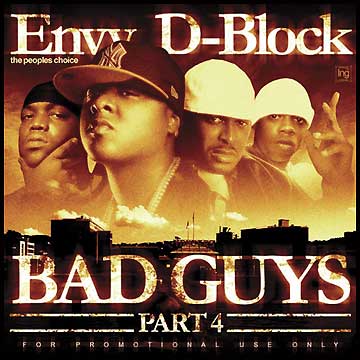 DJ Envy aka. The People's Choice hits you with one of the streets'
favorite hip-hop groups, D-Block. This 4th edition Bad Guys mixtape
features 34 new tracks, freestyles and Yonkers anthems featuring
Jadakiss, Sheek Louch, Styles P and J-Hood. Featuring cameos from
Sigel, Game, Akon, Sizzla, Ginuqine, Fabolous, DMX, M1 of dead prez.
1 - Welcome To D-Block - Sheek
2 - Let'S Go - Jadakiss feat. Sheek
3 - Pussy Niggas - Styles P
4 - All That Counts - Jadakiss
5 - In My Hood - Styles P
6 - None Of Y'All Want It - Sheek
7 - Got The Props - Styles P
8 - Treat Me Like A - Jadakiss
9 - Come Fly With Me - Styles P
10 - Get Money - Sheek feat. Jadakiss
11 - Yayo - Jadakiss
12 - Baby Girl - Styles P
13 - Hands Up - J Hood
14 - Day You Die - Styles P feat. Sheek
15 - Kiss Your Ass Goddbye (remix) - Sheek feat. Jadakiss, Fabolous, Beanie Sigel & Game
16 - Be A Gentleman - J Hood
17 - Beats To The Rhyme - Styles P
18 - The Way Of The World - Sheek
19 - Days In The Life - J Hood
20 - So High - Styles P
21 - Fire & Pain - Styles P feat. Sizzla
22 - One Touch - Sheek feat. Carl Thomas
23 - Can You Believe It - Styles P feat. Akon
24 - In The Club - Jadakiss feat. Ginuwine
25 - We Gon Win - Styles P
26 - Gotta Hit That - Styles P
27 - Make A Girl Feel - Jadakiss & Sheek
28 - Talk To Em Slow - Styles P
29 - Street Muzik - Sheek feat. Game
30 - We Major - Styles P
31 - Block For Life - Jadakiss & Styles P
32 - Don Status - Styles P
33 - It'S Personal - Jadakiss, Styles P & Dmx
34 - Comrades - Styles P feat. M1 (Of Dead Prez)
How To DOWNLOAD