DJ Finesse - R&B Soul Vol. 5
Submitted by mfizzel on Sun, 08/27/2006 - 12:20pm.
R&B | DJ Finesse | Mixtape Torrents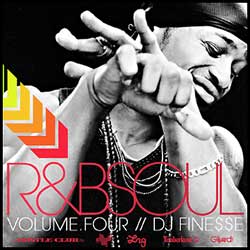 If you're looking for a long, relaxing mixtape of
R&B music that will soothe your soul, DJ
Finesse has something for you. With the fifth
edition of his R&B Soul mixtape series, he once
again spotlights all the most soulful sounds in
R&B today.
This mixtape unwinds new and classic slow
jams and relaxers from R&B's smoothest artists,
including Erykah Badu, Musiq, Angie Stone &
Floetry, D'Angelo, Jill Scott, Maxwell and

1 - D' Angelo - Devils Pie
2 - Vivian Green - Sweet Thing
3 - Angie Stone feat. Floetry - My Man
4 - Jahiem - Diamonds In The Ruff
5 - Erykah Badu - Next Lifetime
6 - Musiq - Me And You Against The World
7 - Lyfe Jennings - Sex
8 - Tweet & Bilal - Best Friend
9 - Anthony Hamilton - I Tried
10 - Amel Larrieux - Make Me Whole
11 - Jill Scott - Comes To Light
12 - Heather Headly - What's Not Being Said
13 - Floetry - Feelings
14 - India Irie - I Am Ready For Love
15 - Kem - Say
16 - Maxwell - Know These Things Shouldn't Know
How To DOWNLOAD