DJ Folk & DJ Got Now Present Lil Boosie - The 25th Hour
Submitted by mfizzel on Sat, 11/21/2009 - 1:33pm.
Dirty South | Mixtape Torrents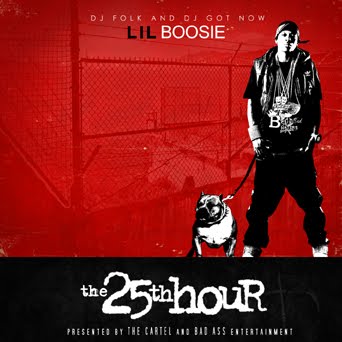 Here goes the official version of Lil Boosie's The 25th Hour. The previous leak
only had 17 tracks compared to the 30 of this official drop.
Props to KC
1. Intro
2. Betta Believe It (remix) (feat. Yo Gotti, Bun B & Trae)
3. They Scared
4. I Been Icy
5. Death Around The Corner
6. I Did U Wrong (featu. Lil Quick)
7. End Of Time (feat. Money Bags)
8. The 25th Hour (Interlude)
9. I AinÆt Mad At Cha
10. If I Could Change
11. Deep Off In Tha Club
12. Streetz Iz Mine
13. Be Careful
14. Fresh Cut
15. Fresh Out The Shower
16. Down Here
17. 5 Star (remix)
18. Bout It Bout It
19. Boosie Talks Jail Time (Interlude)
20. Late Night Flights
21. I Know (feat. Hurricane Chris)
22. Sippin All Night
23. She Goes So Hard
24. Limelight (feat. Hurricane Chris)
25. Boosie Talks Free at Last (Interlude)
26. Did Her Wrong
27. My Children
28. Missin You
29. Outro
30. Jungle
How To DOWNLOAD