DJ J. Period
Submitted by mfizzel on Tue, 06/20/2006 - 5:40pm.
East Coast | DJ J. Period | Mixtape Torrents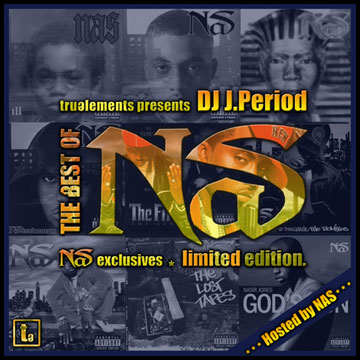 Hosted by Nas: this joint has Nas covered, starting with an exclusive '91
freestyle & 'Live At The BBQ,' moving thru 'Halftime,' eventually on to
'Street Dreams,' exclusive '96 freestyles, 'Nas Is Like,' '1 Mic' & 'Ether'.

1 - Intro '91 Freestyle [exclusive]
2 - Live At The BBQ [classic]
3 - Made You Look
4 - Made You Look (remix) feat. Ludacris
5 - Made You Look (J. Period remix)
6 - Righteous Records Interlude [exclusive]
7 - Nas Is Like
8 - Represent
9 - Halftime
10 - If I Ruled The World
11 - 96 Freestyle, part 1 [unreleased]
12 - 96 Freestyle, part 2 [unreleased]
13 - 96 Freestyle, part 3 [unreleased]
14 - Dr. Knockboots
15 - Ultimate High feat. Nature
16 - Street Dreams
17 - Silent Murder [unreleased]
18 - You're The Man
19 - Doo Rags
20 - Memory Lane (Sittin' In The Park)
21 - The Message (Mafioso remix)
22 - Life's A Bitch feat. AZ
23 - What Goes Around (Poison)