DJ Kay Slay & Busta Rhymes - Countdown To The Big Bang
Submitted by mfizzel on Wed, 04/26/2006 - 9:27am.
Mixtape Directory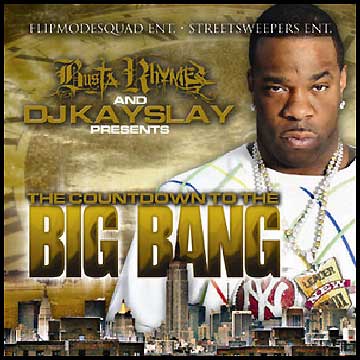 DJ Kay Slay is a real flagrant dude. And Busta Rhymes likewise. So
when you get these two cats together, you know there's gonna be some
Drama, some shit-talkin' and whole lotta loud-azz music. This mixtape is
the 2nd chapter the Drama King's 'Countdown To The Big Bang,' part of
the streets' promotional campaign for Busta's HUGE upcoming album.

1 - Busta Rhymes Intro
2 - Busta Rhymes - The Big Bang
3 - Busta Rhymes & Prodigy - Throw Ya Hands Up
4 - Busta Rhymes feat. Spliff Star - You Niggas Know
5 - Busta Rhymes feat. Digga - You Don't Want None
6 - Busta Rhymes feat. Swizz Beatz - Ny Shit
7 - Busta Rhymes feat. Kelis & Will.I.Am - I Love My Bitch
8 - Papoose feat. Busta Rhymes - Get Right
9 - Busta Rhymes - I Think You Should Leave
10 - Busta Rhymes feat. Q-Tip - Who's That
11 - Ghostface Killah & Busta Rhymes - Blow His Head Off
12 - Papoose - Faces Of Death
13 - Labba - I Don't Like You Haters
14 - Digga - Fuck You Pay
15 - Spliff - Don't Act Up
16 - Busta Rhymes feat. Fabolous & Paul Cain - Just Grind
17 - Digga - I Don't Know
18 - M. Dollars feat. Busta Rhymes - You've Been Warned
19 - Reek - Be About It
20 - Shawwna feat. Busta Rhymes & Labba - Gettin' Some Head (remix)
21 - Busta Rhymes - Touch It (remix)
How To DOWNLOAD