The Aphillites - Busta Rhymes: The Crown
Submitted by mfizzel on Sat, 02/25/2006 - 9:19am.
Mixtape Directory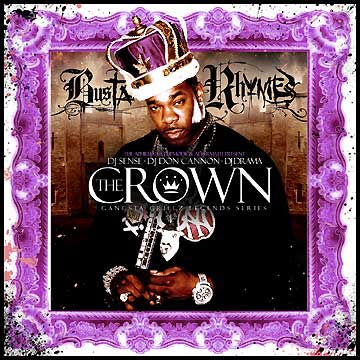 DJ Sense, DJ Don Cannon and DJ Drama of The Aphilliates team up
with Busta Rhymes for the 3rd edition of the Gangsta Grillz Legend series.
Busta Bus drops 25 new tracks that also feature cameos from Slim Thug
& Lil' Wayne, Labba, Mary J. Blige, Lloyd Banks, Bun B., Paul Wall, T.I.,
Papoose & Raekwon, Mike Jones, Pharrell, DMX, Spliff Star & Rah Digga.

1 - Busta Introduction/Dedication
2 - Busta Rhymes - The Crown feat. Spliff Star
3 - Busta Rhymes - Leader Of The New School
4 - Busta Rhymes - Touch It (remix) feat. Mary J Blige, Lloyd Banks, DMX, Rah Digga, Missy & Papoose
5 - DJ Drama - Cannon feat. Busta Rhymes & T.I. (produced by Don Cannon)
6 - Busta Rhymes - Don't Be A Bitch feat. Bun B
7 - Busta Rhymes - It Ain't Over feat. Slim Thug & Lil' Wayne
8 - Busta Rhymes - Really Wanna Do feat. Spliff Star & Rah Digga
9 - Busta Rhymes - I Know Y'all Mad feat. Mike Jones
10 - Busta Rhymes - Peel The Money feat. Paul Wall
11 - Busta Rhymes - Cock The Gun feat. Spliff Star
12 - Busta Rhymes - The Crown Interlude
13 - Busta Rhymes - In The Club feat. Spliff Star
14 - Busta Rhymes - Boss Of The Bosses feat. Labba
15 - Busta Rhymes - You Lookin' Like feat. Paul Wall
16 - Busta Rhymes - Get That Gwop feat. Slim Thug
17 - Busta Rhymes - Hood Salute
18 - Busta Rhymes - Address Me As Mr. feat. Papoose & Raekwon
19 - Rah Digga - Spit Proper
20 - Labba - Uptown Bounce feat. Bun B
21 - Rah Digga & Spliff Star - Ready
22 - Labba - Gettin' Funky
23 - Busta Rhymes - Cut The Dreads
24 - Robin Thicke - Wanna Love You Girl feat. Busta Rhymes, Spliff Star, Labba & Pharrell
25 - Chris Brown - Yo! feat. Labba & Busta Rhymes
26 - Rick Ross - Hustlin' feat. Busta Rhymes
27 - Busta Rhymes - The Crown Outro
How To DOWNLOAD