DJ Khaled & DJ Nasty w/ Oddz.N.Endz - Soul Survivor (Hosted By Young Joc)
Submitted by mfizzel on Fri, 06/09/2006 - 4:54pm.
Dirty South | DJ Khaled | Mixtape Torrents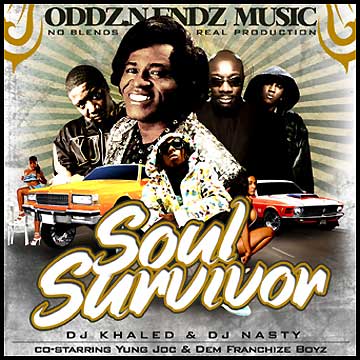 The Oddz.N.Endz production duo of Jay Houston & Nino first landed
on The Unit with their rock/hip-hop mash-up Got The Hood On Mash. If
you enjoyed the creativity and originality of that mixtape, or would call
yourself a remix fan, be sure to grab this one. With all-original remixes/
mash-ups produced with Dirty South/Soul-inspired themes, this mixtape
pairs Jeezy/Curtis Mayfield, T.I./James Brown + Ying Yang/Rick James.

1 - DJ Khaled & DJ Nasty - Intro
2 - T.I., Lil' Scrappy & James Brown - King In A Man's World (Oddz.N.Endz remix)
3 - Young Jeezy, Jay-Z & The Dramatics - Get Up & Go Crazy (Oddz.N.Endz remix)
4 - Yung Joc & Rose Royce - Goin' Down (Oddz.N.Endz remix)
5 - Young Buck & Marvin Gaye - Shorty Wanna Get It On (Oddz.N.Endz remix)
6 - Richard Pryor (Skit)
7 - Ying Yang Twins, Mike Jones & Rick James - Badd Mamma Jamma (Oddz.N.Endz remix)
8 - Trina, Lil' Wayne & Curtis Mayfield - Don't Trip Out (Oddz.N.Endz remix)
9 - David Banner & The Spinners - Play Tha Fool (Oddz.N.Endz remix)
10 - Fabolous, Young Jeezy & Curtis Mayfield - Dead The Damn Thang (Oddz.N.Endz remix)
11 - Richard Pryor (Skit)
12 - Slim Thug & James Brown - The Boss (Oddz.N.Endz remix)
13 - Dem Franchize Boyz & The Temptations - Lean On Me, Rock Wit It (Oddz.N.Endz remix)
14 - Ying Yang Twins, Bun B. & Rick James - Git It To Me Baby (Oddz.N.Endz remix)
15 - Lil' Wayne & The Dramatics - Smiling Faces (Oddz.N.Endz remix)
16 - Richard Pryor (Skit)
17 - Lil' Scrappy & DeBarge - Problems (Oddz.N.Endz remix)
18 - Young Jeezy & Isaac Hayes - Look Of A Thug (Oddz.N.Endz remix)
19 - Akon, Nas & Donny Hathaway - Ghetto Boy (Oddz.N.Endz remix)
20 - DJ Khaled & DJ Nasty - Outro
21 - Bonus: Juelz Santana, Middlemen & Diana Ross - Baby (produced by Oddz.N.Endz)
How To DOWNLOAD