DJ Purfiya - Welcome 2 Flawda Vol 9
Submitted by mfizzel on Mon, 02/16/2009 - 2:12pm.
Dirty South | DJ Purfiya | Mixtape Torrents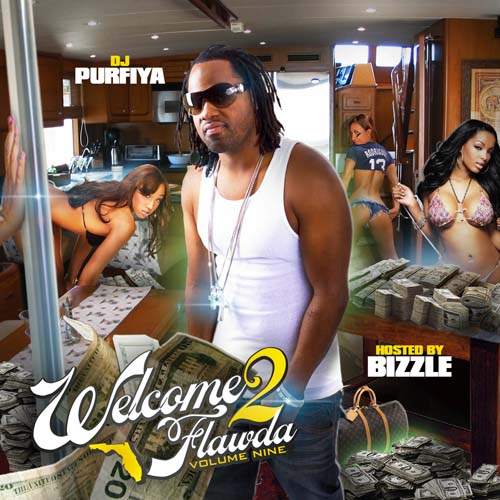 DJ Purfiya Is Back With Another Installment To His Popular Welcome 2 Flawda
Series. This Time He Went To Miami And Got Bizzle Who Has 2 Major Hits In The
Clubs Right Now With "Lip Bitin Animal" And The Strip Club Anthem "Naked
Hustle." This Mixtape Features Alot Of Jook Music Which Is Very Popular In
Florida And Is Slowly But Surely Spreading Outward. With Appearances By Trick
Daddy,Ice Berg, Young Cash,Flo-Rida,Ballgreezy,Piccalo And Taye Dizm Plus The
Introduction Of Newcomers Like Lubaby, Jube, UGS And Gucci Boyz Anyone From
florida Or Who Has A Good Ear For Music Can Tell You This Is A Mixtape That Wont
Leave Peoples Players Anytime Soon And Is Perfect For Getting You Ready For The
Nite Out. DJ Purfiya Also Took Us Back And Reminded Us That florida Has Always
Been On Dance Music By Putting In 3 Classics By 69 Boyz, Jam Pony And The Late
Great DJ Uncle Al. Be On The Lookout For DJ Purfiyas florida Throwback Mixtape
Dropping Soon As Well As Mixtapes With Grind Mode, Ice Berg, Frank Lini, Brisco
And More.
1.Intro
2.Bizzle-Lip Bitin Animal
3.Ice Berg-She Got Me Rmx
4.Trick Daddy-Lemme See It
5.Chaos Of Grind Mode-Vibe With You
6.Young Cash-Freak
7.Lubaby-Sweatn Her
8.Jube-On My Way
9.florida-On & On
10.Bizzle Speaks
11.Bizzle ft Ice Berg-Naked Hustle Rmx
12.Legacy-Wign
13.Supa Chino ft Brisco-U Already Know
14.Bizzle Speaks
15.Taye Dizm ft Piccalo-Nothin But Truth
16.Piccalo-Watch Me Glide
17.Bizzle Speaks
18.Ballgreezy-Amazing
19.C Ride ft Piccalo-Stick Drill
20.Jay Zo-Sassy Girl
21.Javon Black ft Lil Kee & Strizzo-Shawty Tear It Up Rmx
22.Young Wine-Put It In Ya Life
23.E Mackey-Vibin
24.Young Trapp-Back It Up
25.Thrill Da Playa-Everybody Rock
26.69 Boyz-Backseat(Throwback)
27.Jam Pony-Lets Flow(Throwback)
28.DJ Uncle Al-Mix It Up(Throwback RIP!)
29.Bizzle Outro
30.UGS-Gon Get Loose
31.G.U.C.C.I Boyz-Blow Mah Mind
How To DOWNLOAD