DJ Roli Fingaz - Fire Blends 7 - Best of Jay Z Blends
Submitted by mfizzel on Wed, 11/30/2005 - 12:06pm.
Mixtape Directory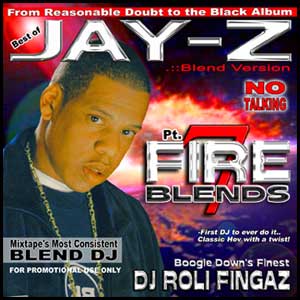 DJ Roli Fingaz is blends' most consistent DJ, but this time he flips da script,
taking blending to a higher cause: pay tribute to the one and only, Jigga Man.
We've never really seen a "Best Of" CD quite like this - call it the precedent.
This mixtape features 23 blends from Reasonable Doubt to Black Album.

1 - Intro
2 - Is That Your Chick (1-beat blend)
3 - Big Pimpin' (3-beat blend)
4 - December 4th (2-beat blend)
5 - Jigga That Nigga (3-beat blend)
6 - Can't Knock The Hustle (3-beat blend)
7 - Sunshine (2-beat blend)
8 - City Is Mines (1-beat blend)
9 - Change Clothes (3-beat blend)
10 - Do My... (1-beat blend)
11 - Somebody's Girl (3-beat blend)
12 - Best Of Me [remix] (2-beat blend)
13 - Izzo (H.O.V.A.) (1-beat blend)
14 - Girl's Best Friend (2-beat blend)
15 - 99 Problems (1-beat blend)
16 - Super Ugly (2-beat blend)
17 - Can I Get A... (3-beat blend)
18 - Moment Of Clarity (2-beat blend)
19 - Hey Papi (3-beat blend)
20 - Dirt Off Your Shoulder (1-beat blend)
21 - Bonnie & Clyde (3-beat blend)
22 - What They Gonna Do pt. 2 (3-beat blend)
23 - Hard Knock Life (1-beat blend)
24 - Stop (3-beat blend)
BONUS TRACKS
25 - Look In Our Eyes- Young Gunz feat. Cam'ron
26 - Something Coming Up- Young Gunz
27 - Paul Revere- Young Gunz
UNSIGNED HYPE
28 - Back On It Bitch- Night, Tek, Calico & DMAC aka. Da Block Controllers (347-538-8454)
How To DOWNLOAD