DJ Skee Presents Crooked I - Young Boss Vol. 2
Submitted by mfizzel on Mon, 08/14/2006 - 6:56pm.
West Coast | DJ Skee | Mixtape Torrents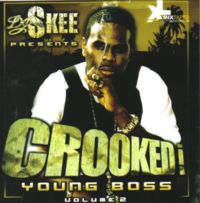 West Coast B.O.S.S.
With the 'Creased Khaki Flow' that garnered Crooked I all the attention on the West Coast, the Young Boss
is back setting tracks on fire from Crenshaw to Northern Cali.
DJ Skee takes the reins to team up with the man once considered the future of Death Row Records and the
embattled record label's resurrecting act. His fall-out with Suge Knight led Crooked I's upcoming
documentary DVD Life After Death Row.
Now signed with Treacherous/Universal Records, the West Coast Boss is back in effect and badder than
ever. If you copped DJ Warrior's first edition of this mixtape, you know this one's the Beginning
Of Something Serious!

1 - Intro
2 - Creased Khaki Flow
3 - Boom Boom Clap
4 - This Is How We Do This
5 - Low Profiles
6 - All I Ever Wanted
7 - Cali Boyz
8 - Suck A D
9 - Crazy Ho
10 - The Kite
11 - Auplelia feat. Sheena
12 - On Once feat. On One Squad
13 - Back To The L.B.C.
14 - 745 feat. The Horseshoe Gang
15 - Fuck You List
16 - Need A Blessing feat. Jim Gittum
17 - Rebel Radio
18 - Rap 101
19 - The B.I.Z. feat. The Horseshoe Gang
20 - Serieus Biz feat. The Horseshoe Gang
21 - Home
22 - My Lowrider feat. Game, E-40, Paul Wall, Technie, Lil Rob, WC & Ice Cube
23 - Black Superman
How To DOWNLOAD