DJ Stone & September 7th Present Ol' Dirty Bastard - Eternal Legend
Submitted by RSS on Sat, 11/13/2010 - 11:51am.
East Coast | September 7th | Mixtape Torrents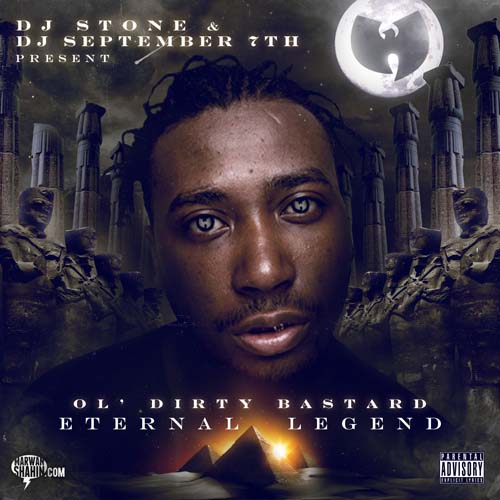 Russell Tyrone Jones aka Ol' Dirty Bastard was born in Brooklyn, New York in 1968. His solo career began in 1995, making him the second member of the Wu-Tang Clan to release a solo album, following Method Man's 1994 effort, Tical. Released on March 28, 1995, Return to the 36 Chambers: The Dirty Version spawned the hit singles "Brooklyn Zoo" and "Shimmy Shimmy Ya", which helped propel the album to platinum status. O.D.B. passed away on November 13, 2004 (two days before his 36th birthday).
Ol' Dirty Bastard - Eternal Legend (mixtape) is the 2nd installment of Dj September 7th's "Eternal Legend" Series. The project was conceptualized & mixed by DJ Stone (Cali Untouchables). This project was released on the 6 year anniversary of O.D.B's passing. Peace to the fans (old & new) & a special shout out to Young Dirty Bastard http://youngdirtybastard.com || http://twitter.com/youngdirtdog & support the future of O.D.B. & Wu Tang Clan!!!
1-Intro/You Don't Want To Fuck With Me
2-Brooklyn Zoo II (Tiger Crane)
3-If Ya'll Want War feat. Royal Flush
4-Interlude 1 (Shaolin Shadow Boxing)
5-I Can't Wait (Dj September 7th RMX)
6-Interlude 2 (What's Your Style)
7-Who Can Make It Happen Like Dirt?
8-Black Mamba feat. RZA & Masta Killa
9-Rahzel Skit
10-Brooklyn Zoo (Dj September 7th RMX)
11-Raw Hide
12-Dog Sh*t feat. Wu Tang Clan
13-Interlude 3 (Smoke Break)
14-Pop Shots
15-Interlude 4 (Ahhhhh)
16-Dirty Run
17-Interlude 5 (Kung Fu)
18-Dirty Dirty feat. Rhymefest (Dj September 7th RMX)
19-Interlude 6 (I'm Hungry)
20-Caught Up feat. Mack 10 & Royal Flush
21-Interlude 7 (Game Of Chess)
22-Got Your Money feat. Kelis (Dj September 7th RMX)
23-Interlude 8 (1998 Grammys)
24-Go Go Go
25-Cold Blooded
26-Interlude 9 (I Love You)
27-Don't Go Breaking My Heart feat. Macy Gray
28-Interlude 10 (Dragon Foot)
29-Shimmy Shimmy Ya
30-Ghetto Superstar feat. Pras & Mya
How To DOWNLOAD