DJ Trigga - Best Of Styles P Freestyles
Submitted by mfizzel on Tue, 08/29/2006 - 2:14pm.
East Coast | DJ Trigga | Mixtape Torrents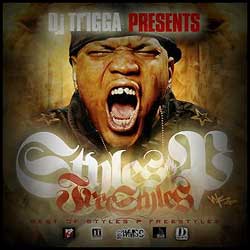 Not afraid of ghosts, DJ Trigga lands on The
Mix Unit with this collection of nearly 40
freestyles from 'The Ghost' Styles P.
Featuring 41 tracks in all, this strictly-Styles P
mixtape features the finest 16's and
beat-jacking's from the Yonkers veteran and
D-Block representative.
Count 'em if you'd like -- this mixtape features
39 new, rare and classic freestyles from Styles
P, notated below by the name of the
instrumental.

1 - Beats To The Rhyme (Freestyle)
2 - In My Hood (Freestyle)
3 - It's So Hard (Freestyle)
4 - Want Me Dead (Freestyle)
5 - Gangsta (Freestyle)
6 - Major (Freestyle)
7 - Who's World Is This (Freestyle)
8 - No Ideas (Freestyle)
9 - Cold World (Freestyle)
10 - Verbal Intercourse (Freestyle)
11 - I Know That U Pussy (Freestyle)
12 - It's A Craze (Freestyle)
13 - All Eyes On Me (Freestyle)
14 - Street Dreams Freestyle
15 - Hustler (Freestyle)
16 - D'd Up (Freestyle)
17 - Unknown (Freestyle)
18 - Switch My Style (Freestyle)
19 - Don't Front (Freestyle)
20 - Boot Camp (Freestyle)
21 - Some Niggas (Freestyle)
22 - 1 2 Y'all (Freestyle)
23 - In Da Hood (Freestyle)
24 - Call My Name (Freestyle)
25 - Life's A Bitch (Freestyle)
26 - Losin' Weight (Freestyle)
27 - Glory (Freestyle)
28 - Baby Girl (Freestyle)
29 - Like You (Freestyle)
30 - Who Shot Ya (Freestyle)
31 - Runnin' (Freestyle)
32 - Got The Props (Freestyle)
33 - In The Ghetto (Freestyle)
34 - Kevin Garnett (Freestyle)
35 - Wait A Minute (Freestyle)
36 - Been A Murder (Freestyle)
37 - Down And Out (Freestyle)
38 - No Problem Freestyle (Freestyle)
39 - Fast Life (Freestyle)
40 - BONUS: Blown Away
41 - BONUS: My Favorite Drug
How To DOWNLOAD