DJ Vlad - Too Short: American Pimps (The Official Too Short Mixtape)
Submitted by mfizzel on Sat, 07/01/2006 - 2:31pm.
Dirty South | DJ Vlad | Mixtape Torrents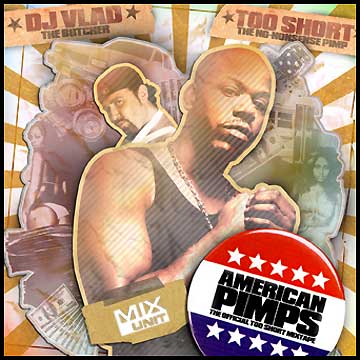 And you know he ain't trippin! Yes yes y'all, this is what it appears to be.
The Butcher DJ Vlad has hooked up with the Oak-Town pimpaholic and West Coast
icon Too Short for this official mixtape, American Pimps.
With 15 albums under his belt, and #16 on the way (Blow The Whistle), Too Short
aka. The No-Nonsense Pimp adds a mixtape to his collection. Believed to be the 1st
Too Short mixtape ever, the man who brought you Rap Phenomenon and Devil's Advocate
brings you this pimp's tale.
The West Coast Godfather gives DJ Vlad this exclusive production, with nearly 90%
of this Too Short mixtape being brand new, including a handful of Butcher remixes.
Camoes include E-40, Keak Da Sneak, Mistah Fab, Pimp C, Rick Ross & The Wolfpack.

1 - Too Short Intro
2 - Too Short, Pimp C, Rick Ross - Money Maker [produced by Lil' Jon]
3 - Too Short - Blow the Whistle (Butcher blend)
4 - Too Short, Keak the Sneak - Goin Dumb
5 - Wolfpack, Too Short, Mistah Fab - Vans (remix)
6 - Too Short - Nothing Feels Better [produced by Jazzy Pha]
7 - Too Short - Let 'em Fight [produced by Lil' Jon]
8 - Too Short, Scarface, Tela - Fuck Faces (Butcher blend)
9 - Too Short interlude
10 - Short - Fuck Them
11 - Too Short - Bad Bitches
12 - Casual, Too Short, Richie Rich, G-Stack, E-Mack - Oaktown
13 - Too Short - Call Her A Bitch
14 - E-40, Too Short, Jodeci - Rappers Ball (Butcher blend)
15 - Too Short - Sugar Daddy
16 - Too Short - Pimping Forever
17 - DJ Fingaz feat. Too Short, Pimp C, Levitti - MVP'z
18 - Too Short, Mistah Fab - Sideshow 2006
19 - Too Short - Shake That Monkey (Butcher blend)
20 - Too Short, New Edition - One Love
How To DOWNLOAD