DJ Whoo Kid, 50 Cent & Jay-Z - Freeway: G-Unit Radio 19
Submitted by mfizzel on Tue, 04/11/2006 - 6:00am.
Mixtape Directory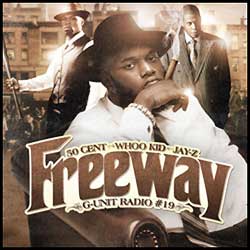 Props KDshortkid

DJ Whoo Kid brings the R.O.C. and G-G-G-G-G-Unit together on some
Brotherly Love sh*t as he takes you to Philadelphia to give Freeway the
G-Unit Radio mixtape treatment. For those confused, recent hip-hop news
has buzzed that Jay-Z & 50 Cent are collaborating to executively produce
Philadelphia Free's new album. This mixtape shows you what's in store +
features cameos by B. Sigel, Peedi C., Juvenile, Lil' Jon & Jody Breeze.

1 - Lil' Jon Intro
2 - Freeway feat. Lil Jon - Rep Yo Click
3 - Shady Aftermath Skit
4 - Freeway feat. Peedi Crakk - Hood On Froze
5 - G-Unit - Prince Of Bahrain (Abdulla Al Khalifa 55 Skit)
6 - Freeway - Won't Say It Again
7 - Freeway - What You Know About Dat
8 - Freeway - Somethin' On The Wrist
9 - Freeway - Freezer Pimpin '
10 - 50 Cent - Fahrakkan Skit
11 - Freeway - Nothing's Gonna Stop Me
12 - Freeway feat. Beanie Siegel - Cosmic Kev Freestyle
13 - Freeway feat. Beanie Siegel - Philly Niggas
14 - Jody Breeze feat. Freeway - Trap Boy
15 - Freeway feat. Juvenile - You's A Hoe
16 - Freeway - The Return
17 - Freeway - Speedin' On The Freeway
18 - Freeway - I Never Testified
19 - DJ Whoo Kid Outro
How To DOWNLOAD