DJ Whoo Kid - G-Unit Radio West Vol.1: LA American Wasteland
Submitted by mfizzel on Sat, 12/17/2005 - 4:18pm.
West Coast | DJ Whoo Kid | Mixtape Torrents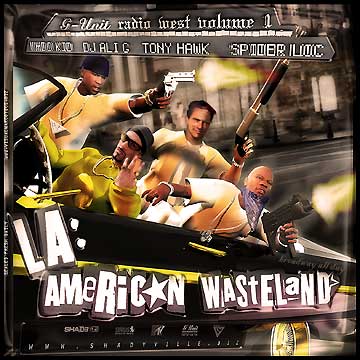 DJ Whoo Kid unifies the West Coast with the help of comedian Ali G,
G-Unit's Spider Loc and skateboard legend Tony Hawk. The inaugural
G-Unit West mixtape features crazy tracks, exclusives & skits featuring
Lil' Eazy, Ras Kass, Spider Loc, Bishop Lamont, The Team, 40 Glocc +
50 Cent, Mase, Mobb Deep, Jay-Z, G-Unit, Mike Jones, Chamillionaire.

1 - LA American Wasteland Intro
2 - Lil' Eazy - They Don't Know You
3 - Tony Yayo - Shade 45
4 - Spider Loc - G-Unot Killer
5 - Ras Kass - I Will Not Lose
6 - DJ Whoo Kid feat. Bishop Lamont - I'm Warning Ya
7 - Ali G Sada Pop Skit
8 - Young Buck - Eye Of A Soldier
9 - 50 Cent feat. Mase - Window Shopper (remix)
10 - Mase - Sorry Mr. Pop Off
11 - Jay-Z Skit
12 - Notorious B.I.G. feat. Jay-Z - Whatchu Want
13 - Jay-Z feat. Snoop Dogg, DMX & LL Cool J Freestyle
14 - Nate Dogg - Shake That Ass
15 - Bobby Creek - Freestyle
16 - DJ Whoo Kid feat. The Team - Oakland
17 - Mobb Deep feat. 50 Cent - The Infamous
18 - Tony Hawk - G-Unit Radio
19 - 40 Glocc feat. Prodigy - Got Got
20 - Young Buck feat. B.G. - Got Mine
21 - Young Jeezy - Straight Drop
22 - Lil' Scrappy feat. Lil' Jon - G-Note
23 - Chamillionaire - Man On These Streets
24 - Doe feat. Timbaland & Lil' Jon - Rollin'
25 - Mike Jones feat. DJ Whoo Kid - Mike Jones 2
26 - Bump J - Keep It Poppin'
27 - Lil' Vic feat. DJ Premier - Microphone Adventure
28 - Young Buck feat. De Tay - Get Down Tonight
29 - Ras Kass - Re-Up
30 - Young Buck & Spider Loc - I Don't Want No Problems
31 - Hood News
32 - Seven - LA To NY
33 - Tony Hawk Outro
How To DOWNLOAD