DJ Mello - G-Unit: 2006 Big Business
Submitted by mfizzel on Fri, 05/12/2006 - 6:27am.
East Coast | DJ Mello | Mixtape Torrents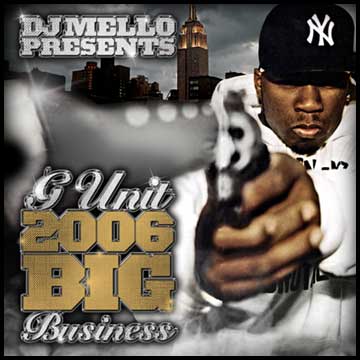 DJ Mello brings you inside the walls of G-Unit as he brings you this
G-Unit Business mixtape featuring the entire crew + then some. With
25 new tracks, freestyles, remixes and G-Unit anthems, this mixtape
features new cuts from Lloyd Banks, Prodigy & The Alchemist, MOP,
50 Cent, Mase, Spider Loc, Young Buck, Tony Yayo, Scrappy, Havoc.

1 - Lloyd Banks Intro
2 - Lloyd Banks feat. 50 Cent - Cake
3 - Mobb Deep feat. Lloyd Banks - Stole Something
4 - Lloyd Banks - 70 Bars
5 - Mobb Deep feat. 50 Cent - Creep
6 - Prodigy feat. 40 Glocc - When Your Dying (produced by The Alchemist)
7 - Tony Yayo - Gunz Is Razors
8 - Mobb Deep feat. Tony Yayo - Click Click
9 - Lil Scrappy feat. Lil Jon - Gangsta Gangsta (G-Unit South/BME)
10 - Mobb Deep - Poppin Bottles
11 - M.O.P feat. 50 Cent - War Time
12 - 50 Cent - Not Rich Still Lyin
13 - 50 Cent feat. Prodigy, Lloyd Banks, Spider Loc & Young Buck - Robbery
14 - 50 Cent feat. Tony Yayo, Mase, Young Buck, Mobb Deep M.O.P & Lloyd Banks -300 Shots
15 - Mase feat. 50 Cent, Young Buck & Spider Loc - It Don't Bother Me
16 - 50 Cent feat. Lloyd Banks, Prodigy, Spider Loc & Mase - I Dont Know
17 - Mobb Deep - Horror Flick
18 - Tony Yayo feat. Young Buck - Im A Gangsta
19 - Young Buck feat. 50 Cent - Celebrity Ho's
20 - Young Buck feat. Lloyd Banks - Oh Lord
21 - Lloyd Banks feat. Tony Yayo - My Hood
22 - Lloyd Banks feat. Prodigy - Get Down
23 - Prodigy - People Talkin
24 - Prodigy feat. Tony Yayo - Be Dead
25 - Tony Yayo - Wassup Freestyle
How To DOWNLOAD