Mastertapes
Submitted by mfizzel on Sat, 09/16/2006 - 5:34am.
East Coast | Mastertapes | Mixtape Torrents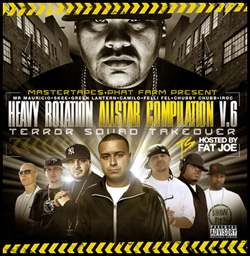 Mastertapes is back at it again, this time hooking up with Phat Farm and hitting you
with the 6th edition of their popular Heavy Rotation series.
Combining the skills of some of the baddest DJs in the game, they've brought together
some of the biggest names on the 1s and 2s from all over the map. Including sets from
Green Lantern, DJ Skee, DJ Iroc, and the Heavy Hitters' DJ Mr. Mauricio, DJ Camilo,
DJ Chubby Chubb, and DJ Felli Fel.
Hosted by the Terror Squad's own Fat Joe, this tape includes some of the latest
tracks and remixes by Young Dro, Gnarls Barkley, Beyonce & Jay-Z, Cassie, Uncle Murda,
Busta Rhymes, Too $hort, The Game, Eve, and more.

1 - Fat Joe Intro
DJ Mr Mauricio
2 - Terror Squad 101 Intro
3 - Fat Joe
DJ Camilo
4 - Young Dro - Shoulder Lean (Camilo Version)
5 - Cherish - Do It To It
6 - Nina Sky Feat. Rick Ross - Flipin That
7 - Fat Joe - Clap Revolver