Max B & Big Mike - Quarantine
Submitted by jada1212 on Sat, 02/21/2009 - 2:51pm.
East Coast | Big Mike | Mixtape Torrents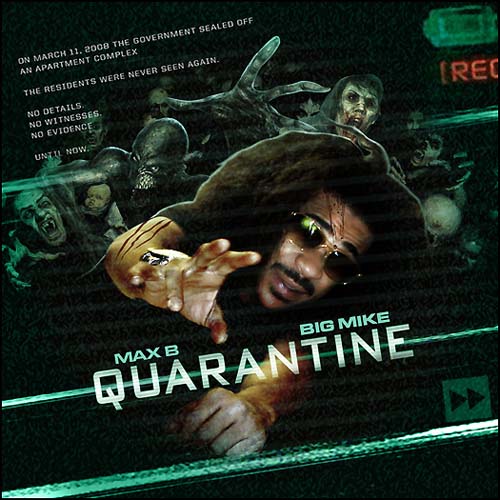 Bigavell is back and the Wave is so crazy right now it had to be quarantined, and the only person who can unlock the Wave is the kid Big Mike. Though Mike and Max haven't put in work in a while together, the two definitely got a track history, putting down history with the Public Domain tape that helped kick-start the Max B mixtape craze. Showing the game his '07 Papoose grind, nobody put more work in the street last year than the Silva Sirfa, and now he's back with the top dawg to give everybody the project you've heard him hyping for a minute: QUARANTINE. All-new freestyles and original tracks like only the Waviest can. Owwwwwwwww
Bigavell officially breaks in his 2009 mixtape grind with this new solo joint featuring the kid Big Mike as they get it in Gain Green style on this official street CD from the Silva Sirfa. Let the 2009 mixtape wave begin.
1. Intro
2. I Aint Tryna
3. All My Life ft. Mack Mustard
4. Long Time Coming ft. French Montana
5. Fuckfaces 2K9 ft. Dame Grease & Mack Mustard
6. West Coast Freestyle
7. Cocktail Party
8. Gimme Slaws ft. Mack Mustard
9. Take The Game ft. Mack Mustard
10. DJ Saved My Life ft. Mack Mustard (Prod By Dame Grease)
11. Oww Oww Oww ft. Mall G & T.P.
12. Think Twice ft. French Montana
13. Won't Go Back (Prod By Young Los)
14. Public Domain Break: PD5
15. Satisfied ft. C Stat
16. Blow Me A Dub 2K9
17. Seen It All ft. French Montana
18. Don't Love Hoes
19. Quarantined
20. West Coast Freestyle Part 2
How To DOWNLOAD