Mick Boogie - Mobb Deep: More Money, More Murda
Submitted by mfizzel on Tue, 03/28/2006 - 12:25am.
Mixtape Directory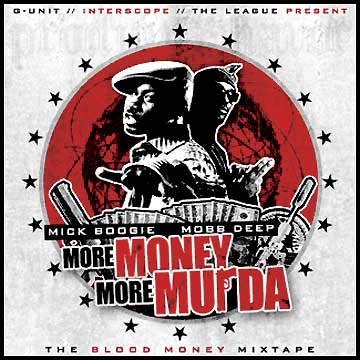 Mick Boogie puts the final touches on a promo campaign to make
Mobb Deep's upcoming G-Unit debut – Blood Money – the duo's
most Infamous album yet. Bringing creativity to the table amongst
a recent swarm of Mobb Deep releases, this CD brings More Murda
with exclusive remixes, blends, original production and live joints.

1 - Intro, part 1 - Mick Boogie
2 - Intro, part 2 - Mobb Deep
3 - Mobb Deep - Blood Money [produced by The Kickdrums]
4 - Mobb Deep - The D Boyz (Mick Boogie mix)
5 - Mobb Deep feat. Dr. Dre - Welcome Home (Mick Boogie mix)
6 - Mobb Deep - Horror Flick
7 - Mobb Deep Interlude
8 - Mobb Deep feat. Bun B - Put Them In Their Place (Mick Boogie mix) [produced by C]
9 - Mobb Deep - Muthafuckin Lie
10 - Mobb Deep Interlude
11 - Mobb Deep feat. Biggie - Escape From New York (Mick Boogie mix)
12 - Mobb Deep feat. The Roots - Burn (LIVE)
13 - Mobb Deep - You Ain't
14 - Mobb Deep Interlude
15 - Mobb Deep feat. Lloyd Banks - You Already Know (Mick Boogie mix)
16 - Mobb Deep feat. Common - Hell (Terry Urban mix) [produced by J Dilla-R.I.P.]
17 - Mobb Deep - Mobb Shot Ya
18 - Mobb Deep feat. The Roots - Shook Ones (LIVE)
19 - Mobb Deep feat. Beanie Sigel - Streets Merge [produced by The Kickdrums]
20 - Mobb Deep Interlude
21 - Mobb Deep - Can I Live?
22 - Mobb Deep - Smack
23 - Mobb Deep feat. Papoose - License To Kill
24 - Mobb Deep Interlude
25 - Mobb Deep feat. The Roots - Got It Twisted (LIVE)
26 - Mobb Deep feat. Termanology - Every Time
27 - Mobb Deep - For The Record
28 - Mobb Deep - Quiet Storm, part 3 (alternate mix)
29 - Mobb Deep Outro
30 - Mobb Deep Freestyle LIVE On League Crew Radio (BONUS)
How To DOWNLOAD