Mr. Pay Attention - Something To F**k To
Submitted by jlaudiosw7 on Fri, 03/20/2009 - 11:10am.
R&B | Mixtape Torrents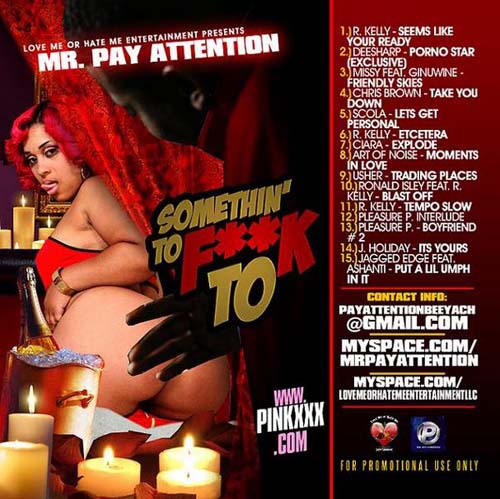 New Mixtape DJ, Mr. Pay Attention, has teamed up with Pornstar Pinky to provide the hottest songs to f**k to. This CD will definitely get you in the mood with songs as old as the early 90's to today's hottest love songs. This CD is a continuous blend, no talking, no cut short songs, and no interruptions. This joint will definitely get you in the "F**king" mood, also check out the hot new single title "Porno Starr" by up and coming R&B sensation Deesharp. For more information hit up his official myspace page at www.myspace.com/mrpayattention & www.myspace.com/lovemeorhatemeentertainmentllc.
01. R. Kelly - Seems Like Your Ready
02. Deesharp - Porno Star
03. Missy - Friendly Skies (feat. Ginuwine)
04. Chris Brown - Take You Down
05. Scola - Lets Get Personal
06. R. Kelly - Etcetera
07. Ciara - Explode
08. Art of Noise - Moments In Love
09. Usher - Trading Places
10. Ronald Isley - Blast Off (feat. R. Kelly)
11. R. Kelly - Tempo Slow
12. Pleasure P - Interlude
13. Pleasure P - Boyfriend #2
14. J. Holiday - Its Yours
15. Jagged Edge - Lil Umph (feat. Ashanti)
How To DOWNLOAD